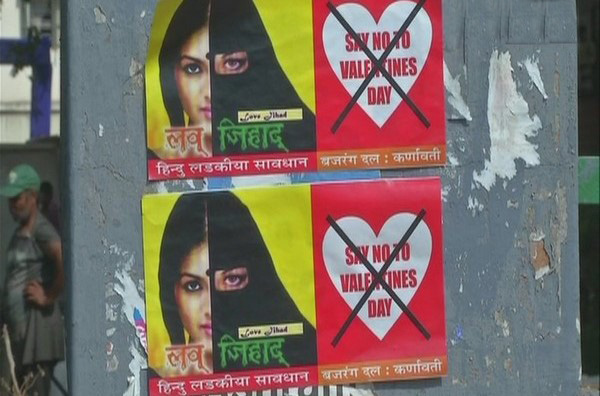 Valentine's Day- the day for lovers. The dates before and after the 14th are celebrated as various days such as Hug Day, Kiss Day etc.
But will Valentine's Day be celebrated in India? And if it is celebrated, will it be one of peace and love or of protests and rows?
Posters have been put up by Bajrang Dal in Gujarat's Ahmadabad ahead of Valentine's Day.
Messages like 'Say no to Valentine's Day' and 'Love Jihad: Hindu girls beware' have been written on the posters.
Meanwhile, the group threatened some pubs and clubs in Hyderabad to not host any special event to celebrate Valentine's Day.
Such incidents of moral policing by the right-wing outfit on this day are reported every year.
READ ALSO: Fashion Hacks: Valentines Day Outfits Of Bollywood Stars
LOVE JIHAD ON FACEBOOK
A couple, who was listed on social media as an example of a 'love jihad' case, has lodged a complaint with the cyber cell of Kolkata Police after allegedly receiving death threats.
The list, posted by Hindutva Varta on Facebook in January, went viral on Twitter and other social media platforms too. It was deleted later.
This is a list of Facebook profiles of Hindu women who are victims of love jihad… We call upon all… tigers to find out the men listed in these profiles," the post read.
The fringe group also gave links to profiles of inter-faith couples from across the country in its post and asked Hindu girls to be "wary of men" from other religions.
One of the comments below the post had said, "Please note that 90% of the list of Love Jihad victims is from West Bengal."
"Love Jihad, also called Romeo Jihad, is an alleged activity under which young…boys and men are involved," another comment had stated.
A similar status message, seeking the return of girls to their own faiths, was also posted on 'Milan Mela'
 community's page on Facebook.
"Bring all the girls back to their own religions," it had said. The post in Bengali also shared the Hindu Varta list.
Joint commissioner of police (crime) Praveen Tripathi said the complaint was lodged by the city couple two days ago.
"We are investigating the case. A possible source involved in the matter has been identified," he added.
READ ALSO: Valentine's Day 2018 : Romantic and Inspiring love stories of Bollywood couples
UNIVERSITY WARNS COUPLES
To curb the "westernization" of Indian culture, the Lucknow University has issued a strongly-worded advisory asking its students to refrain from "roaming" and "loitering" on the campus on Valentine's Day.
The advisory issued on February 10 and signed by Chief Proctor Vinod Singh clearly states: "In recent years, it has been seen that some students, influenced by western culture, celebrate Valentine's Day on February 14."
"Students are informed that the University will remain shut on Feb 14, 2018, to mark the occasion of Maha Shivratri. There will be no extra classes or any cultural programme. Therefore, students are requested to not come to the University."
"If anyone is found roaming or loitering on the campus unnecessarily, disciplinary action will be taken as per rules," the advisory warned.
The University has also requested the parents of the students enrolled to prohibit their wards from visiting the University campus. If despite the advisory and notice, any student is found roaming about the campus of the University, the University will take disciplinary actions against them. 
Students have strongly reacted to the advisory issued by the University and have questioned the University's decision to take disciplinary action against students who enter university premises on Valentine's Day. 
Every year, right-wing groups in different parts of the country protest against Valentine's Day alleging that the Indian culture was being "westernized" by such festivals.
The protests have often turned violent with couples being roughed up and shops and restaurants being vandalized for selling Valentine's Day goodies or having theme parties related to the festival.