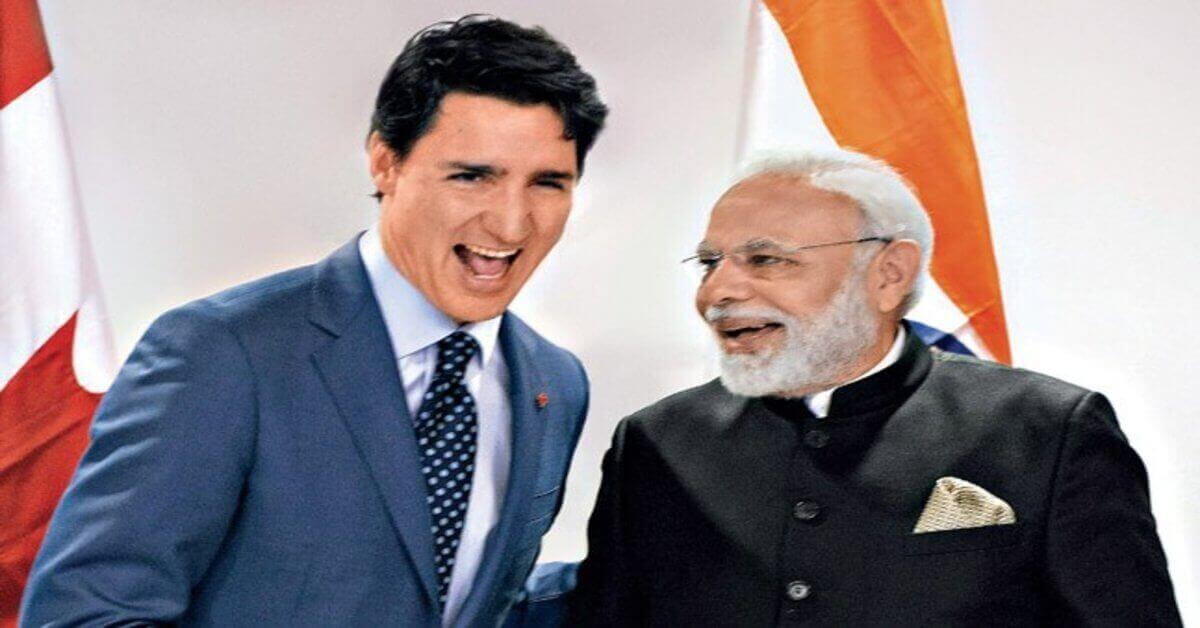 The social media and the news channels have abuzz with Canadian Prime Minister Justin Trudeau and his family visit in India.
But it is not the visits and images that caught the attention. It is the absence of Prime Minister Narendra Modi.
Indian Prime Minister Narendra Modi routinely lands up at the airport to receive world dignitaries. From the moment a world leader sets foot on Indian soil, Modi's photo ops begin. Who can forget the famous Modi hug reserved for world leaders?
Modi's Canadian counterpart, Trudeau, is equally an ace at producing visuals of himself doing things. When they landed in New Delhi on February 17 on the beginning of the Canadian prime minister's week-long trip to the country, the Trudeaus came out of the plane with a namaste, the traditional Indian greeting. But Modi wasn't there to receive them. No Modi hugs for Trudeau. Instead, Modi sent his junior minister for agriculture. Modi hasn't even welcomed Trudeau to India on Twitter, instead busying himself campaigning for a state election in the south.
READ ALSO: Canada would welcome the new proposal put forwarded by US President Donald Trump
It gets worse. The beautiful, photogenic Trudeaus went to see the Taj Mahal in Agra, where they were welcomed not by the provincial chief minister, not even a junior minister, but by district officials. Still, the Trudeaus managed to make memorable visuals at India's famous mausoleum of love. Modi often likes to take visiting dignitaries to Ahmedabad in Gujarat, his home state. Many good visuals have been produced in Gujarat with Modi showing world leaders around Mahatma Gandhi's Sabarmati Ashram or just taking them around the city. But the Trudeaus had to go alone to Gujarat, where they wore ethnic Indian clothes to visit a Hindu temple and Gandhi's abode.
There seems to be no end to the Indian snubbing of the Canadians, even as the Trudeaus are trying their best to disarm the Indians with a charm offensive.
Why is India being so rude to Trudeau? Answer: It has to do with the Sikhs.
The violent Khalistan movement in the 1980s wreaked havoc in Punjab, resulting in India crushing the Khalistan militancy. After the Indian army cleared the Golden Temple of militants, Prime Minister Indira Gandhi was assassinated by her own Sikh bodyguards in 1984. Anti-Sikh riots followed in Delhi and elsewhere, killing thousands of Sikhs. The next year, Khalistan militants blew up an Air India plane flying from Canada to Mumbai.
READ ALSO: Trudeau and assemblage reach Amritsar; vigilant cops in holy city
Sikh, numbering less than half a million, form the largest ethnic group among Indian-origin Canadians. All four of Trudeau's Indian-origin ministers are Sikh, and Trudeau has publicly boasted how he has more Sikh ministers than Modi. Amarinder Singh, chief minister of the Sikh-dominated state of Punjab and himself a Sikh, has publicly accused Trudeau's ministers of having sympathies with Canadian Sikh extremists who would like to see Indian Punjab separated from India into the state of Khalistan. Last year, Singh had refused to meet Trudeau's defense minister, Harjit Singh Sajjan. All four Sikh ministers have recently visited India, and New Delhi would have liked it if Trudeau didn't bring them along again. But for Trudeau, this trip is all about the Sikh vote in Canada.
As Trudeau goes around discovering India, hectic backroom negotiations are on between the two countries. Trudeau wasn't planning to meet Amarinder Singh, given the Indian leader's comments against Trudeau's Sikh colleagues. But the Canadians have relented, and the two will meet soon.
Ironically, Trudeau's visit was meant to mend fences with India, given that India has made clear its disapproval of Trudeau's appeasement of Sikh separatists. It's the sort of thing, India fears, that could reignite Sikh extremism in Indian Punjab.
Trudeau has to choose between not reigniting Sikh separatism in India and keeping some of his voters happy. He can't have both. If India was to start supporting Quebec separatists, it can't imagine that Canada would have good relations with India. It works both ways.
READ ALSO: BJP does not believe in the politics of religion, says Narendra Modi
SO WILL PM MODI HUG TRUDEAU?
The speculation is over, Indian Prime Minister is going to meet Canadian Prime Minister Justin Trudeau.
PM Modi had tweeted:
I look forward to meeting PM @JustinTrudeau tomorrow and holding talks on further strengthening India-Canada relations in all spheres. I appreciate his deep commitment to ties between our two countries.

— Narendra Modi (@narendramodi) February 22, 2018
Earlier, Canadian Prime Minister Justin Trudeau met India's corporate titans on Tuesday as he pursued a tour of the country.
Trudeau addressed a business conference in Mumbai on Tuesday morning, attended by leaders from the Tata conglomerate, IT giants Infosys and pharmaceutical major Jubilant Life Sciences.
But Indian and Canadian media said Indian Prime Minister Narendra Modi has sidestepped his Canadian counterpart over the Trudeau administration's perceived support for Sikh separatists and dealings with Sikh groups in Canada.
Modi often meets leading heads of government at the airport with bear hugs and cheerful photo-ops.