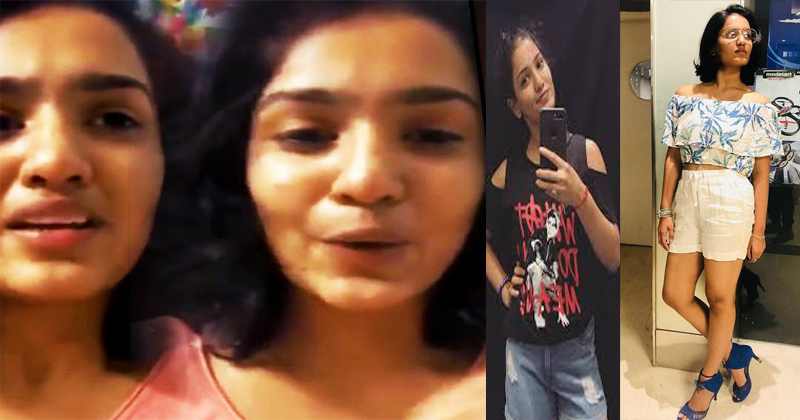 Sania became an overnight celebrity after she participated in a dance-based reality show telecast on Mazhavil Manorama. 'D4 Dance' shot her to stardom. Prodded by her dance trainers, Vineesh and Sharath.
Young actress Saniya Iyyappan conquered the Malayali hearts as the smart and beautiful 'Mech Rani' in the super hit movie Queen.
Saniya, who enjoys a strong fan base, is very active on social media and often posts her pictures in stylish outfits on Instagram.
But online trollers did not spare the teenage actor. Many comments which appear below Saniya's pictures are misogynist and crossed the limits of decency. Now, the young star, in a Facebook live video, has strongly condemned this online attack on her.
In the live video, an emotional Saniya says people who post such comments don't even realize that she is a teenager and a class X student. "The reason why I am coming live on Facebook now is that of the obscene comments that many posts below my pictures. I usually post all those comments as a story on my social media account. A lot of people support me when I react against these online trollers and abusers. I am a class ten student, and as a fifteen-year old, I never felt that I was doing something wrong when I reacted against online abusers. A lot of girls supported me by sending encouraging messages. I am really grateful to all of them," said Saniya in the live Facebook video.
Saniya urged young girls to expose those who abuse them on social media. She said those who insulted women 'don't deserve to be born in this world.' She added that she often wondered how their mothers and sisters lived with them. Saniya said, "We often read the news of small kids being raped, in the newspapers. Once when I posted a picture of me wearing a top and shorts, one man asked me how much I charged for an hour. If a fifteen-year-old girl is asked such questions, then I wonder how many million women go through this torture every day around the world. All I have to say is that we should react against all these."
A visibly disturbed Saniya said women should never suffer this in silence and that they should expose their abusers. She revealed that there was another man who abused her on social media for some time and later when he apologized he said that he had resorted to trolling just to attract Saniya's attention. "A poor man, Madhu, was lynched to death, alleging that he had stolen food from nearby shops. I think people should thrash all those sexual offenders who don't even mind raping little kids or abuse women by sending such filthy messages. The coming generation should, at least, react strongly against such offenders. If such people are eliminated, then our place will be better. You cannot even call such people human beings," said the young actor.
Saniya said girls shouldn't quit but, instead, respond to such atrocities. She added that women wear modern outfits, not with the intention to expose their bodies but because they have their own choices and preferences. She lashed out against those who post obscene comments by saying that the real problem was with their perception and attitude.
"Some said that people post such comments because I wear glamorous clothes. If that is the real issue, then why didn't everybody post bad comments? It is the attitude that must be changed. I am studying as I have exams coming up. Yet I took some time off to come live online only for the sake of young girls. I am not crying. I wish to make some changes in society. I repeat, such offenders should be thrashed; they do not deserve to live on earth. No girl should weep in silence if they are harassed like this. Even I used to cry. But it was my friends who supported me and encouraged me to react against this," she said.
Watch Video Below:
Credits: Third party generated source and news 
Also Read: Why Radhika Apte Slapped This Famous South Actor?