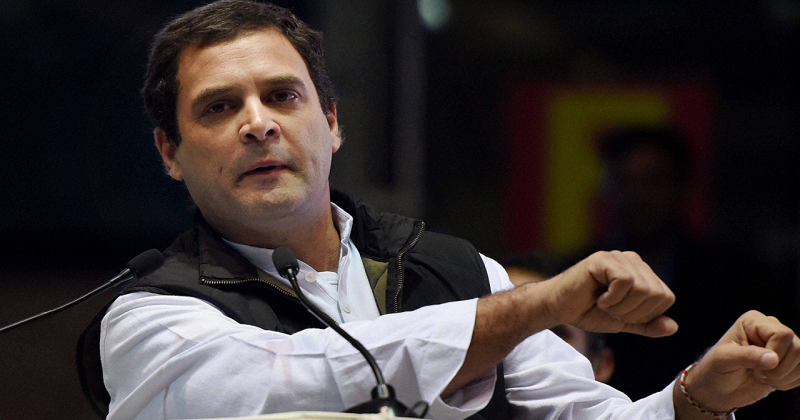 Congress president Rahul Gandhi on Sunday heavily attacked the Modi government and even went to the extent of comparing the BJP and RSS to the Kauravas.
During the second day of the Congress plenary, Rahul Gandhi said, "Thousands of years ago, there was a great battle on the field of Kurukshetra. Like the Kauravas, the BJP and the RSS are designed to fight for power. Like the Pandavas, the Congress is designed to fight for truth." Mr Gandhi also said that the people of India will accept a lying BJP leadership which is drunk with power as they are aware of BJP's capabilities. However, the people will never accept the same from the Congress as it holds a higher standard than any other party.
While claiming that Congress is the voice of a nation, Mr Gandhi attacked PM Modi by saying that name 'Modi' symbolises the collusion between India's biggest crony capitalists and the Prime Minister of India.
ALSO READ: Smriti Irani hits back at Rahul Gandhi over 'Gabbar Singh Tax'
The Congress chief also took the opportunity to do some self-criticism by stating that the last Congress government was not able to stand up to the expectations of the people of the country."The people of India felt let down by us," he said. He further added that the party needs to undergo a change and the first step towards that change is to break the wall between our leaders and workers.
The Congress president also added the NDA government's economic policies which have destroyed the lives of millions of people. "If you are poor, your only choice is to become a farmer, labourer, etc. You are destined to live in 'Modi's maya' – an imaginary world of 'acche din', Swachh Bharat, Rs 15 lakh in your bank account. We were the fastest growing economy in the world. But today millions of youth face unemployment," Mr Gandhi said.
Rahul Gandhi also alleged that the BJP is employing divisive politics in the nation. He said, "They tell the Muslims of India, who never went to Pakistan, and supported this great nation, you don't belong here. They tell Tamils, change your beautiful language, they tell people of northeast we don't like what you eat, they tell women to dress properly."
The Congress chief ended his 45-minute speech by promising the youngsters that the Congress will spread higher education to every corner of India. "To every youngster in India, we are your instrument. The Congress party belongs to you. We want to open our doors to your talent, your bravery and your energy. This country is struggling and it needs you," he said.