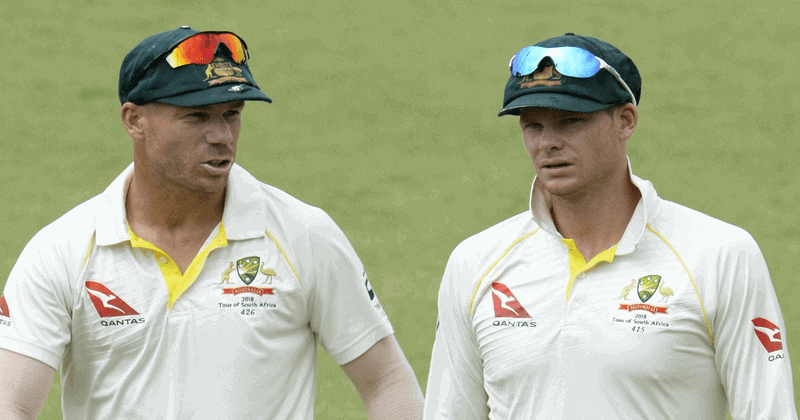 The fans and the fraternity were shocked at the crime committed by the Australian cricket players at Cape Town Test series match.
One might question as to whether or not they were thinking about the cameras trained on the ground and players when they committed the crime.
Now, what is punishment served to the accused?
Steve Smith has stood down as Australian cricket captain for the remainder of the third Test with South Africa following the now infamous ball-tampering scandal.
The incident took place during South Africa's second innings and the International Cricket Council [ICC] has already charged Cameron Bancroft, the batsman at the heart of the incident which was caught on TV cameras, with Smith admitting that it was a decision taken by the "leadership group" within the team.
READ ALSO: Popular Indian cricketer injured in road accident
Vice-captain David Warner has also been stood down by Cricket Australia with Tim Paine set to take over for the remainder of the match in Cape Town.
A short statement from CA chief executive James Sutherland confirmed the news with further ramifications now likely to follow.
"Following discussions with Steve Smith and David Warner they have agreed to stand down as Captain and Vice-Captain respectively for the remainder of this Test match. This Test needs to proceed, and in the interim, we will continue to investigate this matter," he said.
"Cricket Australia and Australian cricket fans expect certain standards of conduct from cricketers representing our country, and on this occasion, these standards have not been met. All Australians, like us, want answers and we will keep you updated."
Bancroft was seen holding the ball when television cameras caught him producing a flat bit of material – that he later confirmed was a strip of sticky tape – from his pocket, with slow-motion replays being shown both on TV coverage and on the big screen at Newlands, and Bancroft then put the tape into the front of his trousers in an attempt to hide it.
READ ALSO: Ball tampering; Australian cricket players found guilty
He said that it was his intention to use granules of dirt from the pitch on the sticky tape to try and roughen the dirty side of the ball, which would aid Australia's seam bowlers in being able to reverse-swing it.
Umpires Richard Illingworth and Nigel Llong spoke to Bancroft at the time of the incident, and he produced what looked to be a sunglasses case from his pocket – through the black fabric did not look like the piece of material that he had put into his trousers seconds before.
While the two English umpires appeared satisfied with Bancroft's explanation, the ICC has since launched a full investigation.
Australian Prime Minister Malcolm Turnbull has since called the incident "completely beyond belief" and "a shocking disappointment" while the Australian Sports Commission, the lead Government agency responsible for Australian sport, has called for Smith should be removed as captain immediately.