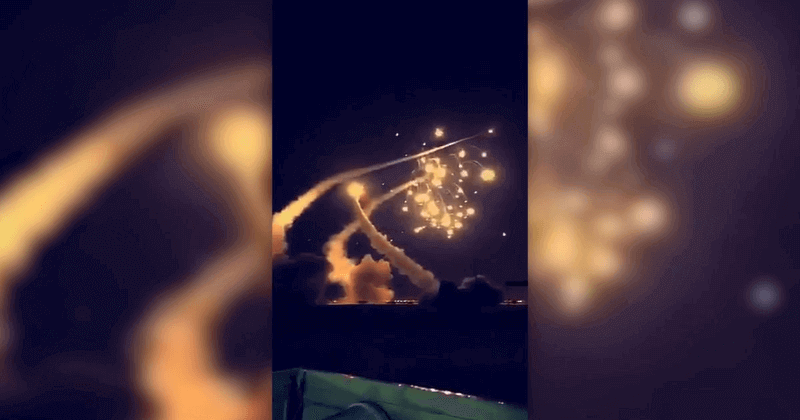 The conflict between Saudi Arabia and Yemen is ever-present, and the former has faced missile attack from the latter.
Saudi Arabia's air force intercepted seven missiles fired from Yemen on Sunday and, in the debris that rained down on residential suburbs from the interceptions, one man was killed, the Saudis said in a statement.
Coalition forces spokesman Col. Turki Al Maliki said the missiles were fired from Yemen at four target areas, and all the missiles were intercepted and destroyed, according to the statement.
This isn't the first time the kingdom was the target of missile strikes from neighboring Yemen, but it is the first time there's been a fatality on Saudi soil.
After previous interceptions, the Saudis responded with airstrikes on the Yemeni capital of Sana'a. The response to a fatal incident such as Sunday's is likely to be even more punishing.
Three were aimed at the capital city of Riyadh, one was headed toward the southwest in Khamis Mushait, one along the southern border targeting Najran and two were headed for the southern city of Jizan.
READ ALSO: Saudi capital faces Yemen missile attack, at least one dead
The interception of the missiles led to fragments "raining on a few residential neighborhoods," the statement said, which led to the death of an Egyptian resident and material damage to "civilian objects."
Videos posted to YouTube, which was included in the official Saudi news release, show explosions illuminating the night sky. Others showed people running up to inspect what appears to be missile debris beside a highway.
"These aggressive actions are in blatant violation of the UN Security Resolution 2216 and 2231. These hostile acts continue to pose a direct threat to the Kingdom of Saudi Arabia and threaten regional, as well as international, security," the statement said.
READ ALSO: Yemenite women can now open her mouth after 29 years
Blaming Iran
Saudi Arabia has blamed Iran in the past for supplying the rebels with weapons. After the November 4, missile strike, the kingdom's foreign minister accused Hezbollah, the Lebanese Shiite militant and political group that is aligned with Iran, of smuggling missile parts into Yemen.
"Operatives from the Iranian Revolutionary Guards and Hezbollah" helped put it back together again and launch it, Foreign Minister Adel bin Ahmed al-Jubeir told a leading international news channel.
"This is a very, very hostile act," he said. "We have been extending our hand to Iran since 1979 in friendship, and what we get back are death and destruction."
Iran at the time responded to the Saudi claims of Tehran's involvement with Foreign Ministry spokesman Bahram Qassemi calling the accusations "false, irresponsible, destructive and provocative," according to an Iranian news agency.