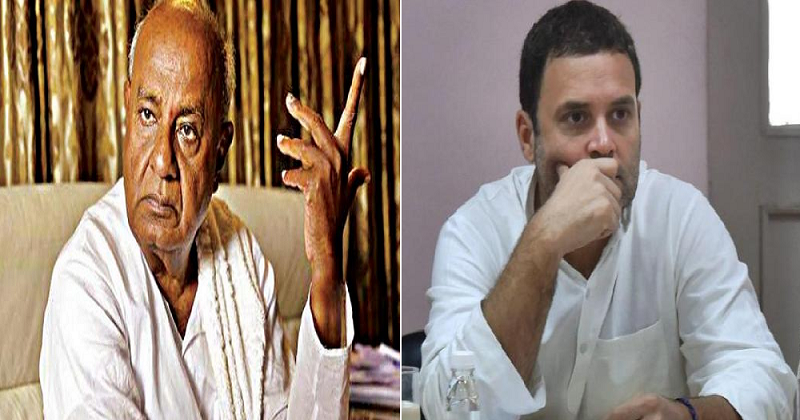 Deve Gowda hits out at Rahul Gandhi , warns not to test his patience
JD(S) supremo H D Deve Gowda on Monday launching a direct attack on Congress president Rahul Gandhi.
Addressing reporters, Gowda took serious exception to Rahul questioning the JD(S)' credentials recently without having any understanding of the political developments of the past. A furious Gowda said Rahul was naive and lacked maturity.
Also Read : Girl's open letter questioning Rahul Gandhi for comparing with PM Modi
Cautioning Rahul to be "careful," Gowda asked the Congress leader not to test his patience, that he would no more tolerate his "irresponsible" statements. He took a swipe at Rahul for his dependence on a "chit" for attacking the JD(S).
"Rahul has charged that JD(S) is BJP's 'B' team – he has compared JD(S) to the Sangh Parivar. He has even asked the JD(S) to come clean on its secular credentials – whether my party is supporting the BJP. You want to question my credentials young man, when you are not even aware of the events of the past? You need to first understand which Congress is there in Karnataka – Indira Gandhi Congress, Sonia Gandhi Congress or Siddaramaiah Congress. If you have the maturity, you will understand these realities. You will not be making accusations against the JD(S) by reading out speeches, written by somebody else, from a chit of paper," he said.
Dubbing the Congress as an opportunist party, Gowda said he had faced betrayal by it. He said that he had endorsed Sonia Gandhi to the prime minister's post at a time when the opposition had branded her as an outsider.
"The least she could do was to be grateful to me. But her party ungraciously withdrew support when I was the prime minister. Why did they withdraw support? I had no corruption charges against me – unlike Siddaramaiah, who is facing a flurry of corruption charges," he said.
He said that the JD(S) would not forge ties with either the BJP or the Congress. If his party fails to get a majority in the elections, it was "happy" to sit in the opposition benches, he added.