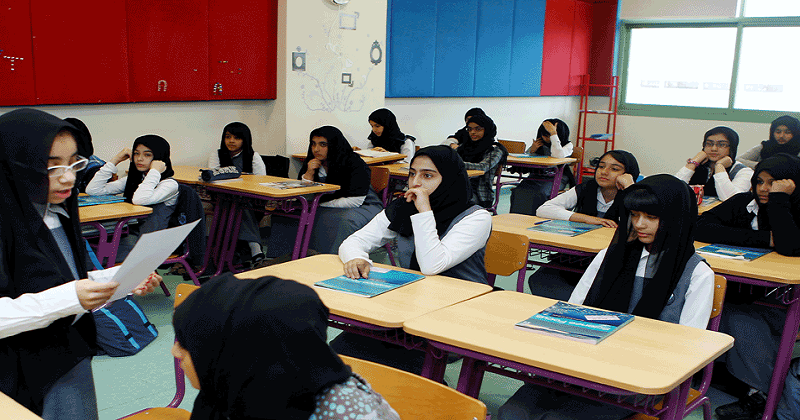 A Happy news for students, Schools in Abu Dhabi are prohibited from preventing a student from attending class if his or her school fees have not been paid unless their parent or guardian has been warned three times.
This will be a great relief for parents and students. Moreover, we can say that this move is an ideal one all other Schools must follow this.
Abu Dhabi Department of Education and Knowledge (Adek) following complaints from parents of students of a private school in Abu Dhabi last week, about their children being prevented from attending class because of non-payment of the outstanding school fees for the current academic year this lead to establishing this great system.
The children were also made to assemble in the school library, and the administrators then contacted their parents to take the students back home, claimed the parents on social media. The children were also prevented from boarding the school buses, they said.
The parents had earlier received a notification from the school reminding them to pay the school fees but were not informed that the children would be sent back home for non-payment.
The parents said the school's action was awful and embarrassing towards the children.
Adek said in a statement that schools are not allowed to dismiss students even if the payment of fees is delayed. However, schools may suspend a student for up to three days, but only after sending three warning notices, each spaced out by a minimum of one week's duration, to the parent/guardian.
"Schools must publish a clear, transparent policy for their response towards the non-payment or late payment of school fees," said the Adek statement.
"Adek will check that schools honour the right of parents/guardians to have a payment system that is fair and reasonable and one in which schools do not apply sanctions in a punitive way."
According to Adek, schools may withhold examination report cards, transfer certificates (or block a transfer on eSIS, the online student info system) and/or re-registering a student until all outstanding dues are settled. "Schools are not allowed to prevent students from sitting for any end-of-term or end-of-year examinations or any exam assigned during the term as a consequence of non-payment of school fees," the ADEK statement said.
Schools must act in a discrete manner when dealing with non-payment issues in order to protect the student from unnecessary attention and embarrassment.
A school is a place to nurture a child. There is no place for embarrassment there. School authorities have to ensure that no child is put through such trauma at an impressionable age. It is also the duty of parents to make payments on time. If unfortunate situations arise, they should talk to the school authorities for a solution. Under no circumstances should their wards be put to shame. It is unfair.
Also Read: Allegations against Kalyan Jewellers: Dubai Police initiate actions