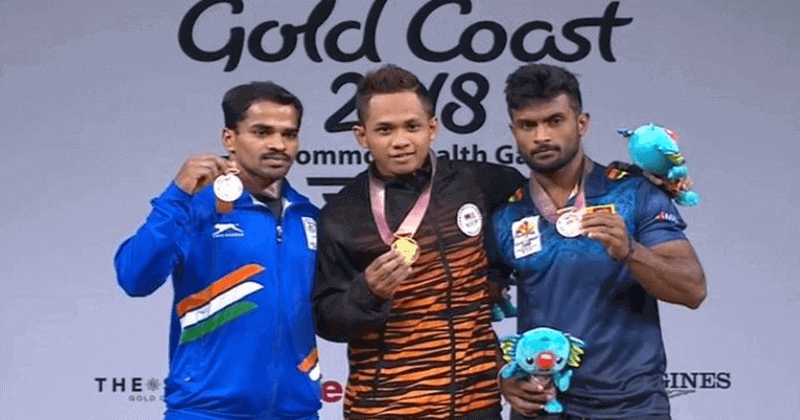 Despite the defeat of India in the women's hockey match against Wales in Gold Coast, the first medal brings in joy and pride to the nation.
India's Gururaja claimed silver in the Men's 56kg weightlifting event at the 2018 Commonwealth Games handing India its first medal at the quadrennial event on the opening day.
After lifting his best weight of 111kg in the snatch, the 28-year-old added 138kg in his third attempt in the clean and jerk to end with a total lift of 249kg – achieving his personal best.
Malaysia's Muhammad Izhar Ahmad won gold with a total lift of 261kg – A Commonwealth Games record – while bronze went to Sri Lanka's Chaturanga Lakmal (248kg).
READ ALSO: India loses in Commonwealth Games for the first time
In 2017, Gururaja had claimed a Commonwealth Championships bronze in Australia.
Gururaja, who began weightlifting in 2010, had won gold in the Commonwealth senior weightlifting championship, lifting a personal best of 249kg (108+141) in Penang in 2016. Earlier that year, the 28-year-old won gold at the South Asian Games.
More Indian lifters are expected to win medals. Following a glittering opening ceremony at the Carrara Stadium on Wednesday evening, more action will unfold Down Under. The Indian badminton outfit also defeated Sri Lanka in the opening pool games while the women's hockey team lost 2-3 to Wales. The main competition commences on Thursday with several Indians participating across various disciplines in the Australian coastal city. India finished fifth in Glasgow 2014 with 15 gold medals, 30 silver, and 19 bronze. They will be eyeing a richer haul this time around.
Let's keep our fingers crossed.