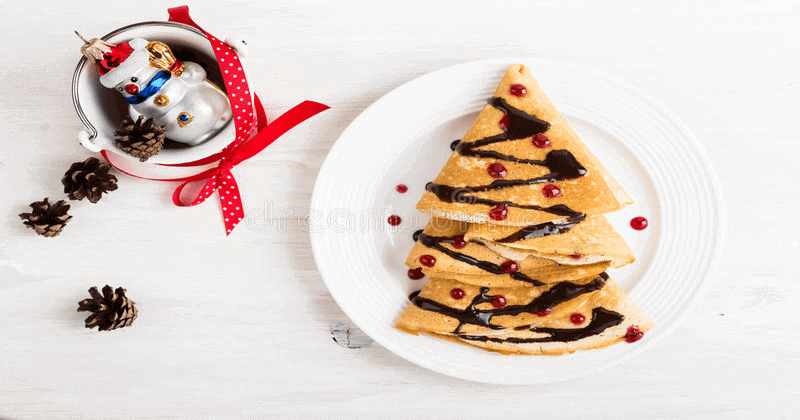 Now, I know the holiday season has passed, but what's stopping you from enjoying this delicious breakfast recipe?
HALF-AN-HOUR BREAKFAST RECIPES
CANADIAN BACON WITH APPLES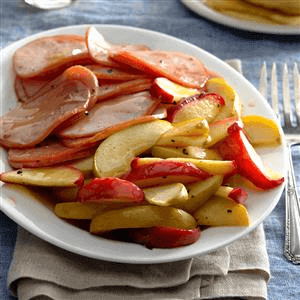 No one can resist Canadian bacon and apples coated with a brown sugar glaze.
MAKES: 6 servings
TOTAL TIME: Prep/Total Time: 20 min.
INGREDIENTS
1/2 cup packed brown sugar
1 tablespoon lemon juice
1/8 teaspoon pepper
1 large unpeeled red apple
1 large unpeeled green apple
1 pound sliced Jones Canadian Bacon
DIRECTIONS
In a large skillet, mix brown sugar, lemon juice and pepper. Cook and stir over medium heat until sugar is dissolved. Cut each apple into 16 wedges; add to brown sugar mixture. Cook over medium heat until apples are tender, 5-7 minutes, stirring occasionally. Remove apples to a platter with a slotted spoon; keep warm.
Add bacon to skillet; cook over medium heat, turning once, until heated through, about 3 minutes. Transfer to platter. Pour remaining brown sugar mixture over apples and bacon.
NUTRITIONAL FACTS
1 serving: 199 calories, 4g fat (1g saturated fat), 28mg cholesterol, 744mg sodium, 30g carbohydrate (27g sugars, 2g fiber), 12g protein.
NOTE:
Those ingredients that are not available in your region, use your creativity & mix n' match or substitute it.