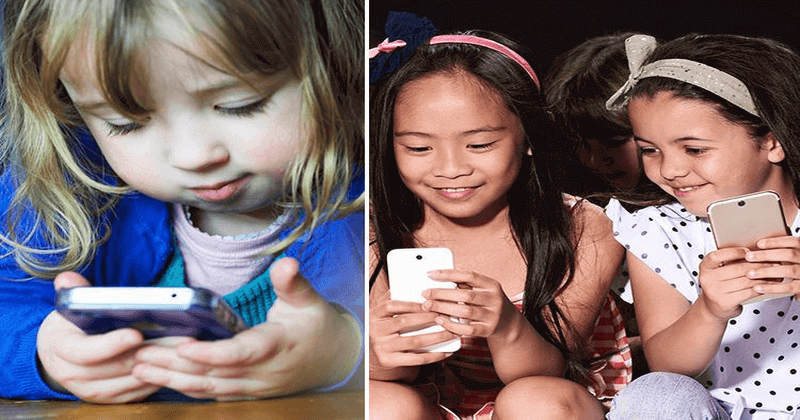 When did you get your first smartphone? Actually, when did you get your first mobile phone for that matter? When were you in high school right- the basic set? Some of us didn't even have one
But what about your kids? Do they have one?
One in four children under the age of SIX now has a smartphone, a study has found.
Despite resolute parents still insisting that 11 is the 'ideal' age for children to have a phone, 25% of children aged six and under already have their own mobile with nearly half spending up to 21 hours per week on their devices.
And 77% of parents paid up to £500 (that is Rs.45,810.72) for their child's first phone with two-thirds admitting they don't cap the monthly spend.
READ ALSO: Prostitution goes 'Hi-Tech' in Kerala with Mobile Apps : Shocking Study
The research was conducted by music Magpie (an eBay store) after they saw a 300% year-on-year increase in the number of customers purchasing refurbished phones as the 'first phone' for their child.
Spokesman Liam Howley said: "Smartphones have become the most important piece of technology we own, connecting us with friends, keeping us updated on the world around us, and letting us capture our biggest moments.
"While the majority of parents in our study stated 11 was the 'acceptable' age for children to have their own phones, we saw that 25% of children aged six and under actually already owned one.
"The age at which children get their first phones has got even younger, and while many agree that there's no defined age to give a child a phone, there's a lot of parents can do to ensure their child's day-to-day life isn't consumed by one.
READ ALSO: Karnataka Polls : Election Commission launches mobile apps
"From restricting the time they spend on the device, to keeping a close eye on what they are downloading, there are many steps parents can go through to limit usage."
Researchers also found eight in 10 parents don't limit the number of time children spends on their phones while 75% don't disable the data function so their children are only able to call and text.
A third of parents allowed their children to have a phone after they asked for one, giving into their constant pleas, while one in five purchased a phone to keep their child entertained.
Other than making calls and sending messages, it also emerged that 38% of children used their mobile phone to play games.
READ ALSO:  Attempts to make the popular iPhone run on Windows Mobile?
Youngsters also use their smartphones to listen to music, watch videos and use Snapchat.
And when it comes to phone manufacturers, Samsung was the most popular 'first phone' brand, beating Apple to the top spot.