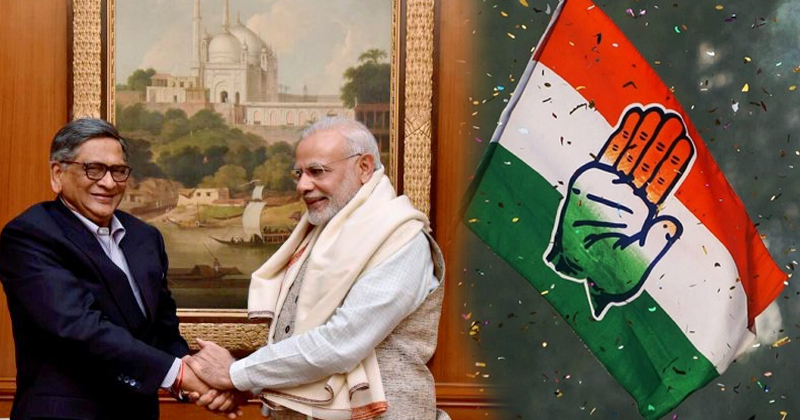 The talk of former Congress stalwart SM Krishna returning to mother party has set the new rumors in poll-bound Karnataka. The election is a "do-or-die" battle for both Congress and BJP.
The former chief minister and external affairs minister joined the BJP in a surprise move a year ago, calling the Congress a party in rapid decline.
A year later, he seems to be interested in returning to the same party, claim state Congress sources. According to these sources, SM Krishna is disillusioned with the BJP and feels that the saffron party has humiliated him by giving no importance to him.
Also Read: Karnataka elections 2018: Special for BJP about its 1st list of candidates
"It has also refused to field his daughter Shambhavi from Rajarajeshwarinagara Assembly seat in Bengaluru. Neither the state BJP nor its national leadership is giving him any importance. He is actually a nobody in BJP. It has hurt him deeply. He has been sending the feelers to Congress for the past two months," said a senior leader of the party.
He said that state Congress president Dr. G Parameshwara and power minister DK Shivakumar are ready to welcome SM Krishna back into the party. "These two have discussed it with Rahul Gandhi. If he and Chief Minister Siddaramaiah agree, the Vokkaliga leader may return to Congress even before the elections," he added.
Krishna, who was also the Governor of Maharashtra, quit the Congress in early 2017, attacking Rahul Gandhi's leadership. He had said that Gandhi had no respect for the seniority of leaders like him.
It is no secret that many Congress leaders, including Chief Minister Siddaramaiah, were happy with his exit as he was not seen to be adding value to the party in the state. Siddaramaiah and Krishna never shared a good rapport and the latter had publicly attacked him on many occasions.
Source: News 18