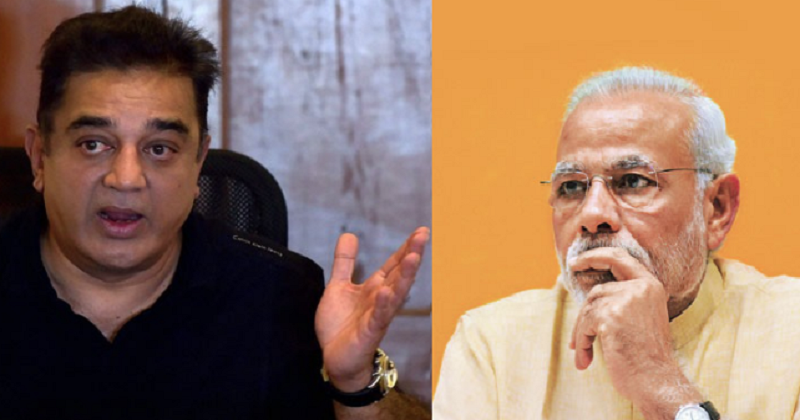 Actor-turned-politician Kamal Haasan on Thursday urged Prime Minister Narendra Modi to deliver justice that Tamil Nadu is looking for amid growing political turmoil over the Cauvery water issue. 
As Modi arrived here on Thursday, Kamal tweeted a video and shared an open letter to the Prime Minister via social media. "You can easily deliver the justice that Tamil Nadu is asking for, seeking," Kamal said.
In the letter, in which he has called himself a "concerned citizen of India and Tamizh Nadu", Kamal said people were dismayed by the delay in setting up Cauvery Water Management Board and wanted justice.
"The Supreme Court has already performed its constitutional role by delivering the judgement. It is now the turn of your government to perform its constitutional duty and implement the order," he said.
Also Read: Amid political tension, Prime Minister Narendra Modi lands in Chennai
Kamal pointed out how in his earlier role as Gujarat Chief Minister, Modi had the experience of water sharing amongst four states through the Narmada Control Authority.
"Please do the needful as our Prime Minister and set up the Cauvery Water Management Board to ensure implementation of the Supreme Court order in letter and spirit.
"All sections of people of Tamizh Nadu have started to believe that this delay is due to ensuing elections in Karnataka and your party's interest in it. Sir, it is your duty as the Prime Minister to prove this wrong by immediately acting as per the Supreme Court order," Kamal added.
He hoped that Kerala and Puducherry also get their rightful share as per the Supreme Court order and said constituting the Cauvery Water Management Board was of "utmost importance" to ensure this.