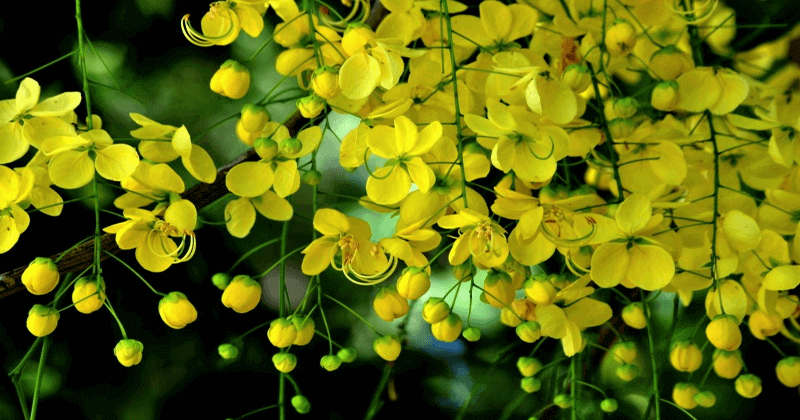 HAPPY VISHU TO ALL THE READERS!!!
Once again Indians are celebrating Vishu, and let's not forget the expats who are missing their native land and the celebrations.
It is that time of the year when the flowers of the Golden Shower Tree, the state flower of the south Indian state of Kerala, make their annual trip to the UAE.
It is only during the run-up to the Vishu festival celebrated by Malayali expats that this flower, called Konna in Malayalam and Cassia fistula scientifically, is imported to the UAE and across the world.
Tonnes of this summer flower is brought in here so that Malayalis can keep its bunches for the Vishukkani, the special spread of everything auspicious that they see first on Vishu morning.
This year, the harvest festival, celebrated on the first of Malayalam month Medam, falls on Sunday.
READ ALSO: Vishu – Festival of new beginning
Flower stores and hypermarkets catering to the community have witnessed a brisk sale of Konna flower since Thursday.
"We started selling Konna flower since Thursday as people started shopping for Vishu," said V. Nandakumar, chief communications officer, Lulu Group.
"This flower comes only during this festival. We have brought almost five tonnes of Konna flower for this Vishu," he said.
Sudalaimuthu Perumal, the owner of Perumal Flower Stores, said two tonnes of Konna flower was imported by his group.
"We sell this flower only for two or three days ahead of Vishu. One box will contain 15kg. The last batch of 27 boxes is coming today. All Malayalis keeping Vishukkani buy it in small packets," he said on Saturday.
READ ALSO: Tradition and culture of Vishu
He said each packet containing around 100 grams of the flower is sold for Dhs 5. A few bunches of the flower are also sold in Vishukkani kits which contain most of the fruits and vegetables kept for 'kani'.
"Malayalis, especially Hindus, cannot think of a Vishu without Konna flower. We run around many shops till we get a bunch of the flower for the Vishukkani. A kani without Konna is incomplete for us," said Praseetha Kishore, a housewife in Dubai.
Expats from Kerala form almost half of the over three million-strong Indians in the UAE.
Many of them feasted on Vishu sadya, the vegetarian feast served on banana leaf, over the weekend since Vishu falls on a working day.
Tens of thousands of Indian expats from Assam, Bengal, Punjab and Tamil Nadu also celebrated their regional New Year over the weekend. The festivals are called Bihu, Poila Boishaak, Baisakhi, and Puthaandu, respectively. Several families are continuing the celebrations on Sunday as well.