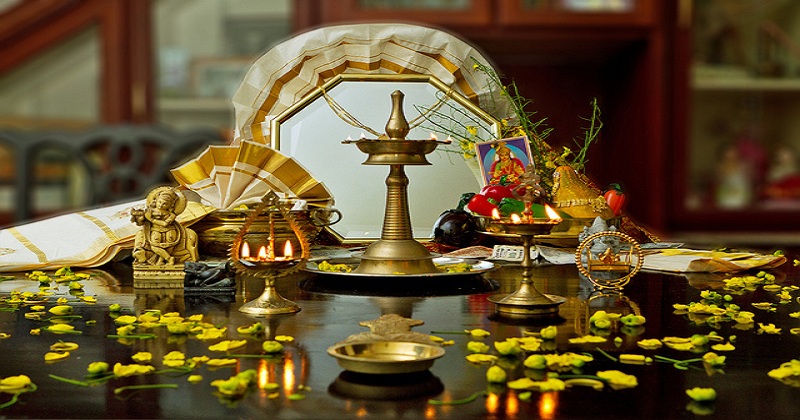 VISHU – "The New Year Of Kerala" : Traditions and Celebrations
Vishu is the beginning of the Malayalee New Year. It is celebrated in the month of Medam, usually in the second week of April. This year, it falls on April 15.
People celebrate Vishu with zest and vigour throughout Kerala. They buy new clothes for the festival and prepare a sumptuous feast.  One of the most important part of the celebration includes Vishukkani.
The ritual is intended to signify the prosperity that comes along with the New Year. In this ritual, the prayer room is decorated and an assortment of rice, fruits, vegetables, betel leaves, mirror, holy Scriptures, money and gold along with Cassia Fistula flowers, arranged in a metal vessel. A lit lamp illuminates the room.
The traditional custom follows going to the prayer room with eyes shut and seeing the Vishukkani at the first sight of the dawn. Vishukkani is viewing the arrangement of flowers. Another tradition that people follow is Vishukkaineetam, which is a tradition of giving money to the young ones as a token of good luck. Not only in houses but the Vishukkani is also arranged the night before in temples.
People also read verses from Holy books for prosperity in the New Year. The Vishu feast is a major part of the festivity which includes equal proportions of salt, sweet, sour and bitter delicacies, prepared in traditional style. People burst crackers and fireworks as well.