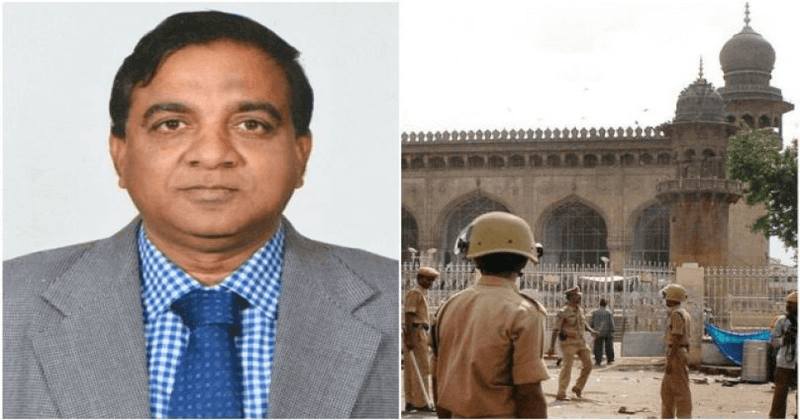 The verdict of the Mecca Masjid was pronounced yesterday, leaving the nation unhappy with judge's decision.
Special NIA judge K Ravinder Reddy resigned on Monday just hours after pronouncing the judgment in the Mecca Masjid blast case, a surprise decision which set off speculation about the possible trigger.
Judge Reddy's letter had cited 'personal reason', according to sources. The judge, who was on the verge of superannuation, immediately proceeded on 15 days' leave.
Reddy's four-page letter, also sent to the Acting Chief Justice of the Hyderabad High Court Ramesh Ranganathan, also reportedly referred to the delay in the bifurcation of the judiciary even four years after the formation of Telangana. In 2016, Reddy was at the forefront of the agitation by the judiciary in Telangana over the issue as the Telangana Judges Association president and was also suspended on disciplinary grounds. He had led the agitation by over 100 judges against the provisional allocation of judicial officers between Andhra Pradesh and Telangana
READ ALSO: Mecca Masjid blast: People are losing faith in agencies: Congress
But these reasons hardly sound convincing and even if they were true, did not merit resigning soon after such an important verdict.
A section of lawyers swiftly took to social media to claim that a corruption complaint against Reddy was pending in the high court which has come down hard on allegations of graft in the lower judiciary. However, this was rebutted by high court sources. "We have not received any complaint against this judge," a source said.
Lawyers familiar with the arguments made in the Mecca Masjid case, however, point out that it would be too early to jump the gun. They point out that the prosecution did not present strong enough arguments to nail the five accused and Judge Reddy would have found it difficult to convince himself that those in the dock had indeed carried out or masterminded the terror plot.
There is also speculation that Judge Reddy quit in order to join Telangana Jana Samiti, a political party recently formed by Professor M Kodandaram, who led the Telangana movement along with K Chandrasekhar Rao. Kodandaram and KCR fell out after the formation of Telangana and the professor is now one of the most bitter critics of the chief minister. Kodandaram, however, denied he even knew the judge, leave alone the possibility of Judge Reddy joining his party.