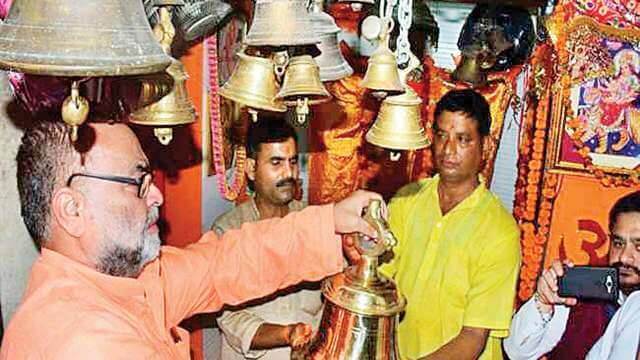 There is just one God; He is neither Hindu, Muslim, Christian or any other religion out there. He is all—at least to me.
Keeping this in mind; we know that each religion has its own set of rules, regulations, and guidelines that are to be followed.
BJP minister  Bukkal Nawab has been excluded by Darul Uloom Asharfia  (an Islamic organization) for paying homage to Lord Hanuman in Uttar Pradesh's capital city Lucknow.
According to the organization's head Maulana Saalim, Ashraf Qasmi Bukkal Nawab has been shunned by Islam and the Muslim community for offering prayers to 'a Hindu God'.
"Islam forbids idol worship.  Any Muslim paying obeisance to any other God other than Allah ceases to remain a Muslim. It is not Islamic act and such a person should be thrown out of the Islam and Muslim community," said Maulana Qasmi.
READ ALSO: Latest controversy in politics: BJP National Secretary calls Kanimozhi "illegitimate"
Maulana Qasmi said that Bukkal Nawab should repent his anti-Islamic acts by seeking an apology from Allah. "He will be welcomed back to Islam after he purifies himself by offering an apology to Allah and reading the Kalma thrice," the Maulana added.
 Bukkal Nawab, former Samajwadi Party MP who had joined the BJP last year, had offered prayers and gifted a heavy brass-made bell at famous Hanuman temple in Hazratganj on Tuesday after he was nominated by the BJP to the Upper House.
Earlier, he had advocated construction of Ram temple at the disputed site in Ayodhya and had offered a golden crown worth Rs 10 lakh to Lord Ram. Reacting to the fatwa issued by Deoband, Bukkal Nawab said that he was not bothered.
"Besides being Muslim, I am also a devout Hanuman Bhakt. Like Lord Ram, Lord Hanuman is also our ancestor. Under the Constitution of India, we are free to practice any religion. I am not worried about any such fatwa which is aimed at dividing members of the two communities," he said.
Earlier, a similar fatwa was issued from Deoband against BJP Minister Mohsin Raza when he had offered prayers at a Hanuman temple on Hanuman Jayanti on March 31 along with his family members. Former Union Minister Salman Khurshid was also ostracized from Islam after he was caught offering prayers to a Hindu God.