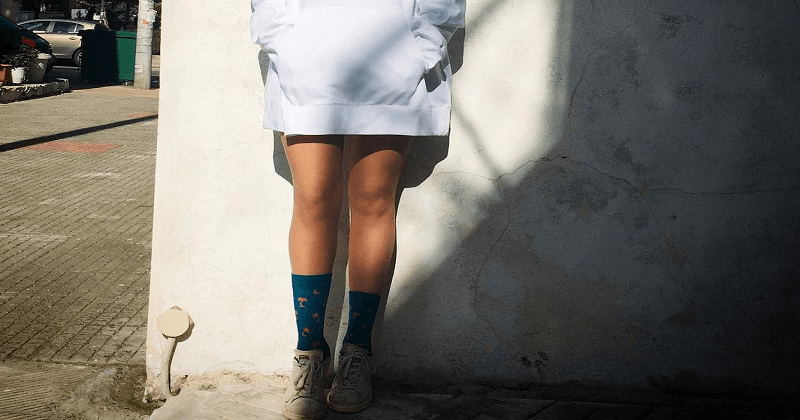 Two men tried to pull her skirt while she was driving a two-wheeler, a model said who from Madhya Pradesh has alleged that on Sunday. The motorbike ride men demanded to know "what was under her skirt', she alleged, as they reached for her skirt. When she attempted to stop them, she lost control over her Activa and fell to the ground. It was one of the busiest roads in Indore, but nobody reaches her to help, she said.
The model-blogger took to social media to narrate her situation had and posted photographs of her bruised legs.
"I was coming back from a bloggers meet. I was wearing a skirt. Two guys came near me and tried to pull my skirt. 'Dikhao iske niche kya hai?' they said. It all happened within a few seconds. I fell down, but nobody tried to stop them," she said.
The incident has left her "numb and speechless", she said in the Twitter thread.
"It happened on one of the busiest roads of Indore, and nobody tried to stop them. They ran away, and I couldn't even see their number. I've never felt so helpless. I'm not the kind of girl who will just sit and watch. Those fiends (sic) ran away, and I couldn't do anything," she wrote on Twitter.
She also wondered why her clothes were responsible for the attack. "Just because I was wearing a skirt, doesn't give you a right to behave like that. What I want to wear is my f**king choice. An uncle who came to help me after my fall said, "it's because you're wearing a skirt!" I've never been so offended."
The incident occurred in front of a popular mall, but one shudders to imagine what would have happened on a deserted street.
Read More: Congress adopting Kerala model of political violence, says Rajnath Singh
"Would those guys have stopped at trying to pull my skirt?" she asked, and added, "So many girls go through this. Most of them decide not to talk about it. Why? It's embarrassing, yes. But not talking about it is empowering those guys who think they can do anything and can get away with it."
The woman went back to the location and enquired passersby if they saw the men. There were no CCTV cameras in the area. "They are roaming free and happy that they did it and got away with it. I will file a police complaint. I don't know if they will be able to find those guys, but if I don't do it right now, it defeats my purpose," she tweeted.
Almost a day after her tweet, Madhya Pradesh Chief Minister Shivraj Singh Chouhan tweeted. He applauded her courage to do such a brave thing and promised to ensure that the culprits are brought to books. "Me and the government will ensure that the culprits are caught and that you get justice. You will have to help the police in identifying them," he said on Twitter.
The woman welcomed the chief minister's move saying she had full faith in the judiciary and the government. "I want every woman in my city and my country to be safe. Thank you again," she said.