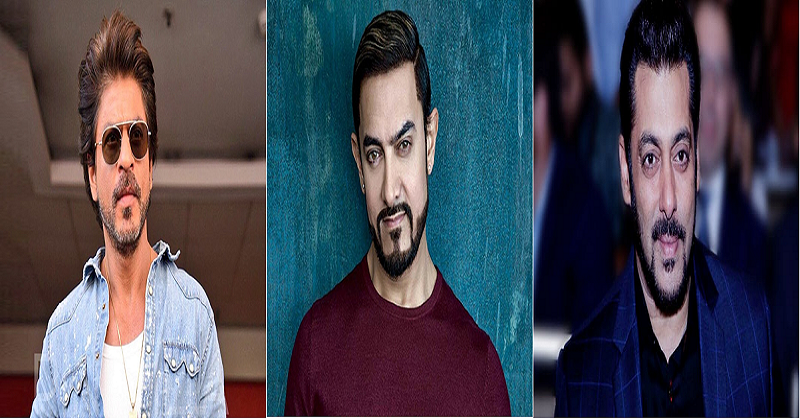 Here's the list of highest paid Bollywood actors
1. Shah Rukh Khan
Shah Rukh topped the list by raking in $38 million (Rs 243 crore) for starring in Raees and several brand endorsements. He stood at the eighth position in the worldwide list and took home more money than Ryan Gosling and Matt Damon.The epic Dilwale Dulhania Le Jayenge (1995) was released on 20th October 1995 and as of 2011 still plays in a Mumbai theatre, thus being the longest running film in the history.
2. Salman Khan
Salman Khan took home $37 million (Rs 236 crore) last year even as his film Tubelight flopped at the box office. A big chunk of his earnings could be attributed to his role as a host for reality TV?show Bigg Boss. He was on the 9th position on the worldwide list.His work was noticed internationally in the movie Phir Milenge (2004) where he played the role of an AIDS patient. It was well appreciated by the World Health Organization (WHO) for presenting the problems of AIDS patient in today's world.
Also Read : Actress Gayathri Iyer latest photoshoot : See Pics
3. Akshay Kumar
2016 was a good year for Akshay once again as he took home $35.5 million (Rs 224 crore). His films Jolly LLB, Housefull 3 and Rustom have contributed towards the big haul. Akshay has earned more than Mark Ruffalo and Ryan Reynolds combined. He was on the 10th position on the worldwide list. He studied martial arts in Hong Kong. It was a student that suggested that he try modeling. Because of his success as model, he was offered films. Along with his good looks and excellent martial art skills, he was always the first choice to do adventurous movies.
4. Aamir Khan
Aamir Khan gave Bollywood its biggest hit ever but still could not defeat Shah Rukh, Salman or Akshay. He earned $12.5 million (Rs 80 crore), a massive dip from Akshay's $35 million. Aamir was first introduced as a child artiste in the 1970's hit Yaadon Ki Baaraat (1973) – he was the youngest child in the trio.
5. Hrithik Roshan
Hrithik took home $11.5 million (Rs 73.6 crore) for Kaabil, Mohenjodaro and several brand endorsements. While Mohenjodaro was a big flop, Kaabil more than made up for it.Often described as India's 'most complete actor', Hrithik Roshan is the culmination of old Hindi film industry from both sides of his pedigree