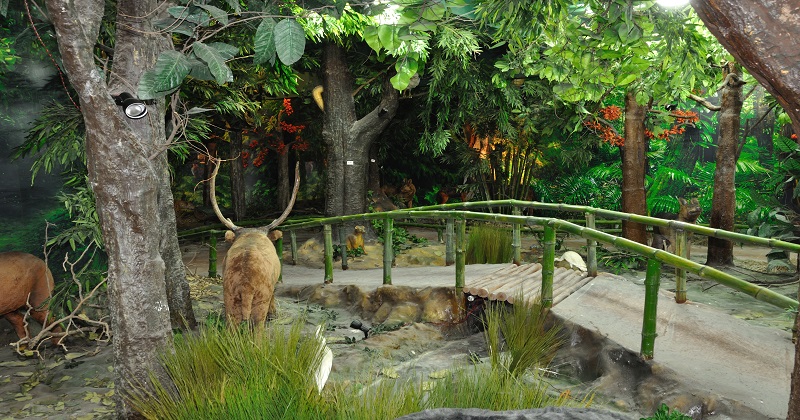 Ranchi as the city with natural topology and extreme greenery is endowed with one of the marvelous tourist spots, Bhagwan Birsa Biological Park. It is an eventful place situated in the lap of nature. Bhagwan Birsa Biological Park is spread over the area of 104-hectare land on the excursion of Ranchi. It is comprised of two halves; one is zoological park while other half is a botanical park.
The large area is dedicated to the enclosures of animals while the small area on the other side is given for rare species of plants and trees. Bhagwan Birsa Biological Park was established and handed over to the public in the year 1994. It is one of the major attractions of Ranchi tourism which draws nearly 4 lakh visitors in a year.
The most significant feature is Getalsud Dam located on southern side and Sapahi, a seasonal sea encompassing from other sides. The park has been developed in Ranchi to educate people regarding wildlife along with information about forest conservation.
Also Read: Akashganga Temple, Arunachal Pradesh- A Place You Should Visit Once In Your Life
Facts of Bhagwan Birsa Biological Park in Ranchi
The zoological section is dedicated in 81 hectareBotanical Park is spread over 23 hectare
There are 23 species and 269 mammals in total
The park has 33 species and 885 birds in its premises
It has 15 species and 36 reptiles in-house
The park remained closed on Monday for weekly off
Plastic is completely banned in premises
Littering is not allowed in the park
Activities at Bhagwan Birsa Biological Park in Ranchi
Boating at Bhagwan Birsa Biological Park:
Boating is one of the most desired activities in this park. People from a far distance come to see animals and take the ride of paddle boats available here. Visitors can have leisure ride of 2 seater or 4 seater paddle boats while spending memorable time with family. Visitors ×nd complete rejuvenation and rejoice at the artificial lake against the backdrop of lovely ambience.
Exploring Zoo by Battery Operated Vehicle:
Giving optimum service along with keeping eco-friendly atmosphere is the main motto of management. Hence, they introduced the battery operated vehicle to offer a complete tour of Zoological Park. Though it is charged for every passenger, but it is one of the best ways to watch entire arena without taking any exertion.