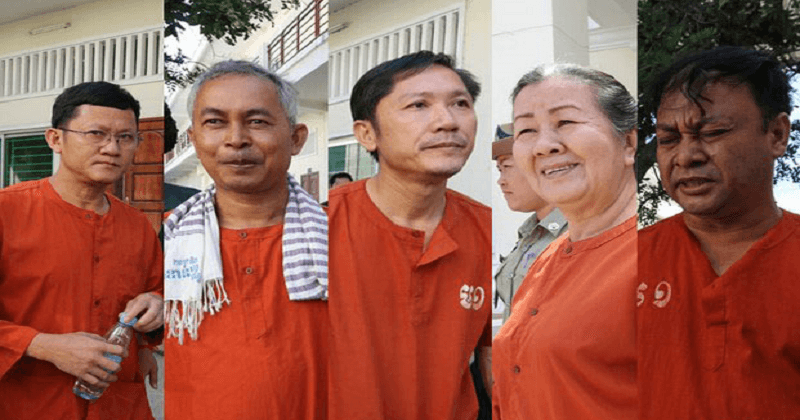 A Cambodian judge on Thursday convicted 11 members and supporters of the country's now-dissolved main opposition party. The decision made amid growing concern about a crackdown on his critics by Prime Minister Hun Sen, who has ruled the country for 33 years, ahead of a general election set for July 29. "The Appeal Court decides to uphold the Phnom Penh Municipal Court's decision…and continues to detain the 11 individuals," Judge Plang Samnang said, without giving a reason.
The 11 members of the Cambodia National Rescue Party (CNRP)were jailed for terms ranging from seven to 20 years in 2014, after they forcibly tried to reopen the country's only designated protest venue, "Freedom Park", in July that year.
Critics say Hun Sen stepped up pressure on his enemies after his ruling Cambodian People's Party (CPP) narrowly won a 2013 general election, following the loss of seats to the CNRP.
Such fears were revived after weekend news of the sale of the Phnom Penh Post newspaper to a Malaysian businessman whose public relations firm lists Hun Sen as a client.
That led to the resignation of as many as 13 foreign journalists from the 26-year-old paper, which Cambodian civil society bodies called the country's "last independent paper".
Dozens of radio stations have been forced off the air and an English-language newspaper, the Cambodia Daily, was forced to close last year after the government gave it a month's deadline to settle a $6.3-million tax bill.
Read More: Major fire broke out in a manufacturing unit at New Autonagar in Vijayawada
New York-based Human Rights Watch mentioned that the case against the opposition aimed to silence government critics ahead of the election. "Prime Minister Hun Sen and the ruling Cambodian People's Party apparently decided to lock up political opponents to stave off defeat at the ballot-box," Brad Adams, the group's Asia director, said in a statement on Monday.