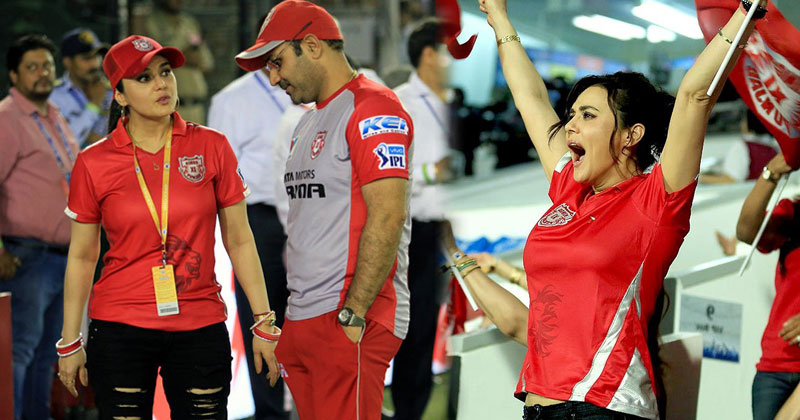 Kings XI Punjab co-owner Preity Zinta on Friday lashed out at a popular media outlet, who reported a spat between her and Punjab team mentor Virender Sehwag after losing to Rajasthan Royals in the Indian Premier League (IPL) match. The report even said that Sehwag might quit the franchise after this year's IPL.
But Preity completely denied the allegations and said that the conversation has been blown out of proportion. She took to Twitter and said,"Mumbai Mirror gets it wrong again because we didn't do Media net & pay them to write articles cuz that's the only time they get it right. A conversation between Viru & me has been blown out of proportion & suddenly I'm a Villian ! Wow! #fakenews"
According to the report, Preity was unhappy with the decision of experimenting with the team strategies and combinations. "Against Rajasthan Royals, skipper Ravichandran Ashwin was sent in at number three, ahead of more accomplished batsmen such as Karun Nair and Manoj Tiwari. The move backfired as Ashwin fell for a duck, and Preity launched into Sehwag for the decision," Mumbai Mirror quoted a source.
However, when Preity continued to blame him, saying 'unnecessary' tinkering with the playing XI had led to a spate of defeats, Sehwag tried to reason with her, according to the report.
Also Read: Preity Zinda's shameful relationships in IPL after getting married
Later, KXIP also released a statement saying, "This is in response to the media articles that have been published in the last couple of days on the supposed disagreement which was reported after Kings XI's last game. The stories have led to a lot of speculation and we at Kings XI Punjab would like to clearly state that as part of our management process, (as well as other franchisees) we review our performance on and off the field after each game through both, formal and informal discussions."
"This is part of our standard operations review process which helps us to analyse our results and allow us to focus on the improvement required after each game, both on and off the field so that we can continue to improve in all aspects. The culture in Kings XI is one that is open and non-hierarchical and is one which encourages open and frank debate by one and all across all levels with the common goal of continuous improvement."
"It is unfortunate that this open and transparent culture has been misconstrued and highlighted in a negative manner, so as to tarnish and damage our image as well as that of the IPL," the release added.