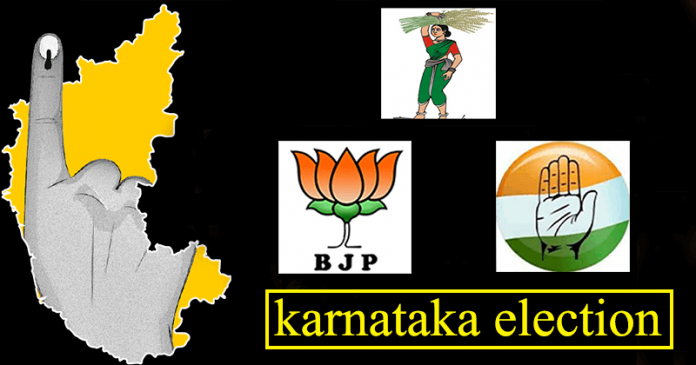 The Karnataka elections polling ended on yesterday at 6 PM with a large voter turnout. But the exit poll that has come afterwards is yet to decide a clear winner.
Nine exit polls of different news channels have delivered the verdict, BJP is still leading with 97 seats while the Congress party follows with 90 seats (although this varies) and the JD(S) with 31 seats,   by the polls are more than enough to place it in the kingmaker's spot.
The exit polls have declared that neither of the 3 major parties has crossed the majority mark of 112 seats.
Both Congress and BJP have accused JD(S) of being the other part's backup plan.
READ ALSO: Karnataka Exit Poll Results Out : Here's the details
The Congress has accused the JD(S) of being the "B" team of the BJP, especially in Mysuru's Chamundeshwari, one of the seats from where Chief Minister Siddaramaiah is contesting.
The BJP has, however, refuted the Congress allegations. "It is the Congress that is secretly working with them and the two will align after the elections," Prime Minister Narendra Modi has said.
Deve Gowda had denied the allegations, insisting that his party had been let down by both, the Congress and BJP, and would support neither.
Its leader HD Kumaraswamy, though, did seek to take a jab at the exit polls, wondering in an unusual statement, which seats had been given to the JDS that he said, had been described as "a small regional party".
READ ALSO:  Karnataka Election Live Updates: Results announce on May 15
"There is no question of going with BJP. If the Congress is voted out, if Congress loses the majority, if Congress goes below 100, then it is the responsibility of the Congress, and Congress also how they are going to fight 2019," Danish Ali, the JDS general secretary and chief spokesman, told a leading news agency.
"It is not the question… not the responsibility of JDS only to every time to show the certificate of secularism," Mr Ali said, complaining that his party had helped the Congress against the BJP but its gestures weren't reciprocated.
For now, the Congress isn't talking about the possibility that it might need support from the Deve Gowda's party to form the government. Chief Minister Siddaramaiah told the agency that his party would get a comfortable majority on its own.
West Bengal Chief Minister Mamata Banerjee had yesterday prophesied a hung assembly in Karnataka and lamented that the Congress hadn't worked with the JDS.  "The Congress should have worked more tactfully with HD Deve Gowda, it would have helped them," she had said in an interview to a Bengali news channel.