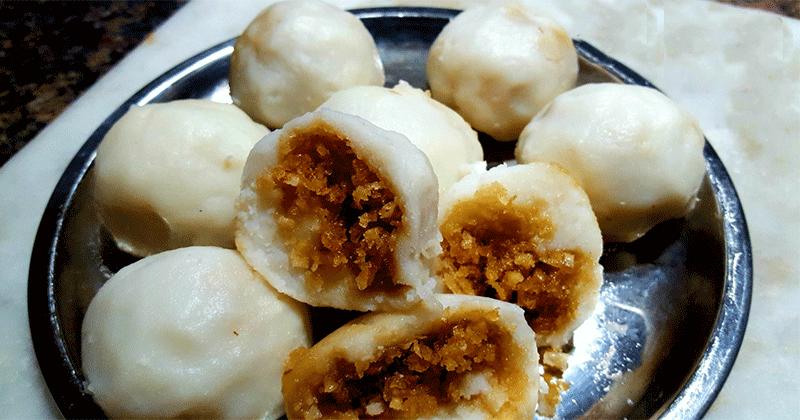 When Modakam comes to Kerala it becomes Kozhukatta, and it is a personal favourite of mine. So try it out.
Kozhukatta
This can be cooked in normal occasions also as a breakfast or snack it is healthy and suits everyone including children.
Makes: 20-25 Kozhukatta
Ingredients
For the Outer Covering
Raw rice / Rice flour: 1 cup
Water: 2 cups                                                                                                      Coconut Oil: 1 tsp
Salt to taste
For the Filling
Grated coconut: 3/4 cups
Jaggery /Shakkara: 1/2 cup
Cardamom powder: 1/4 tsp
READ ALSO: Simple and delicious Kerala style Palak Dosa
How to make 
Wash and soak raw rice for an hour.
Drain the water completely and spread the rice on a cloth and allow it to dry.
Grind the raw rice to a smooth flour.
For 1 measure of rice flour take 2 measures of water.
Boil the water over a medium flame, in a kadai (a shallow thick bottom vessel). Add salt and coconut oil, bring to boil.                                                                                        To the boiling water, add the batter and stir continuously without allowing any lumps to form.
When the mixture has formed into a smooth thick dough, remove from the fire.
Melt the jaggery in a saucepan over a medium-low heat. (Note: Add a tsp of water to the jaggery to facilitate the melting)
Once melted, the jaggery will start slowly bubbling and form a 'pouring' consistency.      Add the grated coconut to a pan and pour the jaggery over it.
Slowly incorporate the jaggery into the coconut, over the stove, and stir continuously to ensure it doesn't burn. add the Flavor the cardamom powder and mix well.
Smear your hands with a little oil, smoothen the prepared rice flour dough with your hands and make small balls (the size of a lemon).
Press in the palm of your hand and slowly flatten the edges with thumbs to get a cup-like shape.
Fill these cups with the prepared coconut-jaggery filling and seal to make a ball.
Place all those filled dough balls in an idli cooker or steamer and steam cook for about 10-2- minutes or until the outer layer looks firm. Serve warm…
Notes 
Kozhukkattai made with freshly made rice flour will turn out very soft. If thats not available try using readymade fried rice flour.