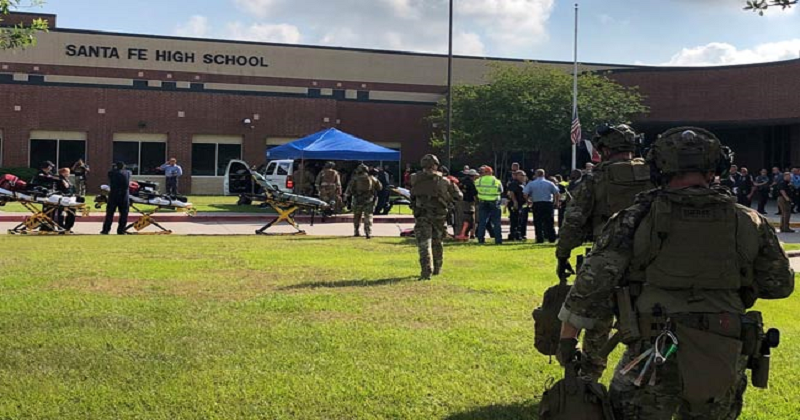 At least eight people killed in an opened fire at a high school in the US state of Texas on Friday. The incident occurred at Santa Fe High School in the city of the same name, located about 50 kilometres southeast of Houston.
Gunman shots several, an unidentified law enforcement officer was shot, but sources said he was "clipped" and was not seriously injured. At least eight persons were killed in the gunfire, Houston Chronicle quoted federal and county law enforcement officials have confirmed.
One source said the gunman was a male but could provide no further information. The shooter has been "arrested and secured," said Santa Fe HS Assistant Principal Cris Richardson.
BREAKING: Multiple casualties reported after school shooting in Santa Fe, Texas; authorities say it is no longer an active situation. pic.twitter.com/Dmo5NfxyEJ

— CNBC Now (@CNBCnow) May 18, 2018
Source: CNBC NEWS
Several other students, as well as an officer, was injured in the shooting. This is the third school shooting in the past seven days and 22nd since the beginning of the year in the US.
Junior Liberty Wheeler, 14, was in class when she heard five shots ring out near the art room.
Her teacher told them to run toward the theatre department's storage room, where they hid for 45 minutes before being escorted outside by the SWAT team.
"You could smell the gunpowder that came from the gun," Wheeler recalled as she was escorted out of the building. "We were all scared because it was near us."
"We can confirm multiple fatalities, believed to be fewer than 10 at this time," police official says. https://t.co/Ve7LLjfEOX pic.twitter.com/SVhrCiRODc

Source: CNBC News May 18, 2018
The University of Texas Medical Branch at Galveston is treating two patients, their conditions not yet being disclosed, said spokesman Raul Reyes. He said more patients are expected, including one currently being transported from the branch's League City hospital.
School shooting in Texas. Early reports not looking good. God bless all!

— Donald J. Trump (@realDonaldTrump) May 18, 2018
He said a helicopter with at least one patient is on the way and more ambulances are expected.
President Donald Trump expressed concern over the incident. "School shooting in Texas. Early reports not looking good. God bless all!," he tweeted.