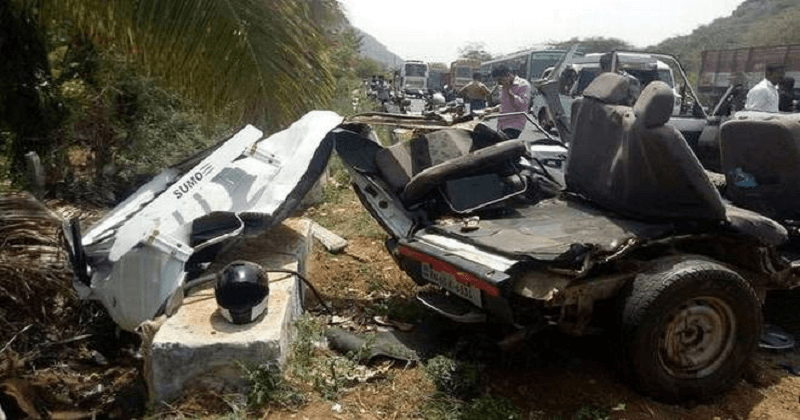 Four persons, including two women, were killed in Andipatti, Tamil Nadu, on the spot and 25 others injured when a car coming to Theni from Madurai collided head-on with a van going to Peraiyur on Andipatti-Theni Highway at Kanavai near Thimmarasanaickanur in Andipatti block on Sunday.
The deceased were R. Ramar (21), M. Chellasamy (48) of T. Sanarpatti in M. Kallupatti panchayat in Peraiyur taluk and Jeyalakshmi (42) and Sucharitha (19) of Arappadithevanpatti near Theni.
When one of the tyres of the car burst, the car ran amuck and crashed into the van coming from the opposite direction. In the impact of the collision, the roof of the car was ripped apart and all travellers in the car were thrown out. Many of them received head injuries.
The injured were admitted to the Government Theni Medical College Hospital in Andipatti of whom two were referred to a private hospital in Madurai.
Three persons were killed and 15 others injured in Dindigul when a private tourist bus proceeding to Bengaluru from Kanniyakumari crushed passengers of another tour bus waiting on the roadside as their bus overturned at Nagampatti near Vedasandur in Dindigul district in the early hours of Sunday.
The deceased was Shaji (35) of Kollam, Rajan (70) and Shamun Jose (28) of Kottayam.
The injured were admitted to the Government Hospitals in Dindigul and Vedasandur.
Read More: Capital Damascus and its surroundings completely secure: Syrian army
The tourists' bus, which was proceeding to Mangalore from Kottayam, overturned and fell into a gorge on the left side of National Highway-7 in the early hours of Sunday. Luckily no was injured in the accident.
Shaji, who was driving a mini-van transporting a life-size elephant doll for the inaugural function of a jewellery shop in Salem from Kollam, stopped his vehicle on the road near the accident spot and was rescuing the passengers caught in the tourist bus.