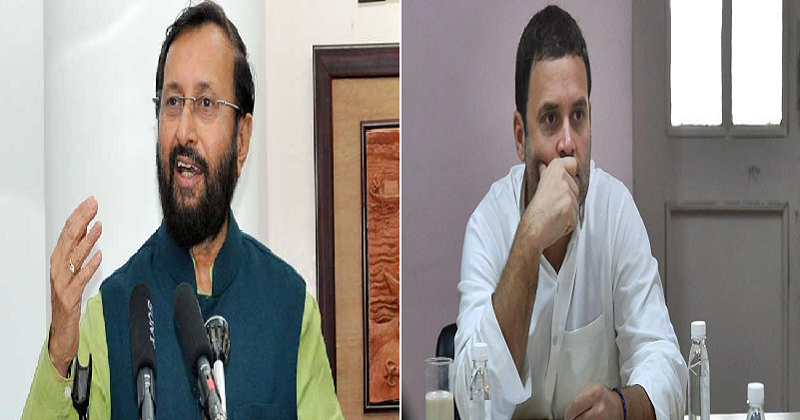 Prakash Javadekar takes dig at Rahul Gandhi over 'Ready to be PM' remark,says "No ban on day-dreaming"
Union minister Prakash Javadekar today took a dig at Congress president Rahul Gandhi's remark that he is ready to be the prime minister, saying there is no ban on "day-dreaming". 
"The Congress has lost 20 states and it is in power only in a couple of states now. If on that basis, Gandhi is thinking of becoming the prime minister, then there is no ban on day-dreams in this country," Mr Javadekar said.
Rahul Gandhi had recently said he is ready to become the prime minister if his party emerges as the "biggest" party in the 2019 Lok Sabha polls.
Asked if Mr Gandhi could pose a challenge to Prime Minister Narendra Modi in the parliamentary elections next year, Mr Javadekar said, "A smart tweet or big talk is not politics. It is much more than that." 
The BJP had only two lawmakers in the Lok Sabha in 1984 and it won 282 seats in the 2014 general polls. The Congress was then 400, which reduced to 44, he pointed out.
"There are lessons to be learnt by the Congress from our example," he said.
Asked about the recent political scenario in Karnataka, he said the southern state's governor had invited the BJP by acting within the constitutional framework.
Also Read : Modi Govt is trying to appoint RSS workers into civil services, says Rahul Gandhi
"When we realised that we do not have the sufficient strength, our chief minister (B S Yeddyurappa) stepped down," he added.
On the Punjab National Bank scam involving diamond merchant Nirav Modi, the BJP leader said, "It happened during Congress period but we have arrested more than 13 people in connection with the case. We will seize their properties spread across the country." 
On the BJP's slogan of 'Congress-free India', the minister said it means a country free of "crony-politics, lobbying and passing on benefits only to selected people." 
"The bad culture in politics, introduced by the Congress, is what we have been opposing," Mr Javadekar said.
"I have seen that women in Uttar Pradesh and Bihar have given their toilets the name of 'izzat ghar' as earlier it was embarrassing for them to go out in public," he said.
There are some 400 schemes in the country having an outlay of Rs. 3.25 lakh crore, which directly gets deposited into the bank accounts, he said.
"The then prime minister, Rajiv Gandhi, had once said that if he sends Rs. 100 to the people, only Rs. 15 would reach actually. It was the Congress in power, from the Centre to village, and leaders were siphoning off money. We have stopped it," Mr Javadekar said.