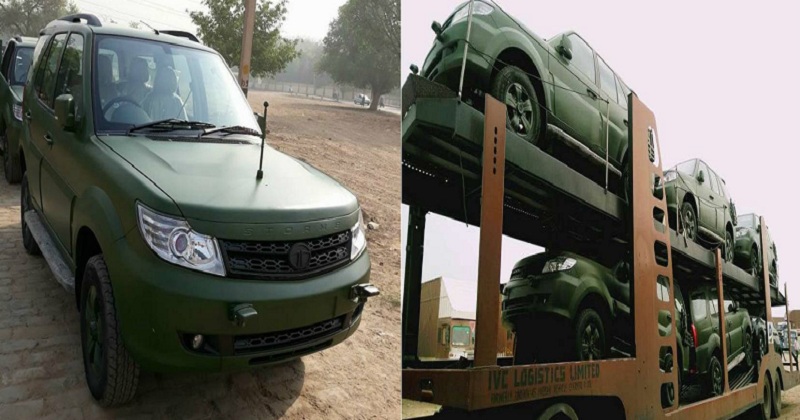 Tata starts delivery of 'Safari Storme' vehicles to the Indian Army
Indian Army, which is the second largest standing army in the world, has been long using the Maruti Suzuki Gypsy for its transportation purpose. In fact, Gypsy became famous for being the low-cost 4×4 vehicle used by defense forces in extreme terrains.
However, last year, it was reported that the Indian Army will replace the aging Maruti Suzuki Gypsy with something more modern and rugged. In came the Tata Motors, who were chosen to deliver 3192 units of the Safari Storme SUV for the Indian Army, who operates in some of the roughest terrains starting from the mountainous region of North to the desert in the west and dense forests in the North-East and as per the latest reports the deliveries of the Matte Green Tata Safari Storme for the Indian Army has been commenced.
The India Army version of the Tata Safari Storme comes with a few differences as compared to the standard road-going model. Apart from the matte paint job, there are blackout lamps mounted on the front and rear bumper that projects a horizontal light beam. All these changes add to the stealth value of the Safari Storme.
Also Read : J&K : Police to get hi-tech modern equipment for security operations
The chrome bits like the grille, exhaust tips, etc. have been blacked out to avoid reflection. There's also a large hook at the rear to mount a trailer and a canister mount on the rear fenders. The military version of the Tata Safari Storme also gets a radio antenna on the bonnet.
The criteria set by the Indian Army for the vehicle selection was – hard top, 800 kg payload capacity and air conditioning. This is the first time detailed images of the Safari Storme have surfaced online in a cool matte green paint job.
Apart from the visual changes, Tata Motors has made some minor mechanical changes to the car, including better underbody protection and beefier suspension. The engine remains the same 2.2-litre diesel unit that makes 154 bhp of peak power and 400 Nm of peak torque. All the army versions will come standard with four-wheel drive and with both a low range and a high range option along with a 6-speed manual gearbox.