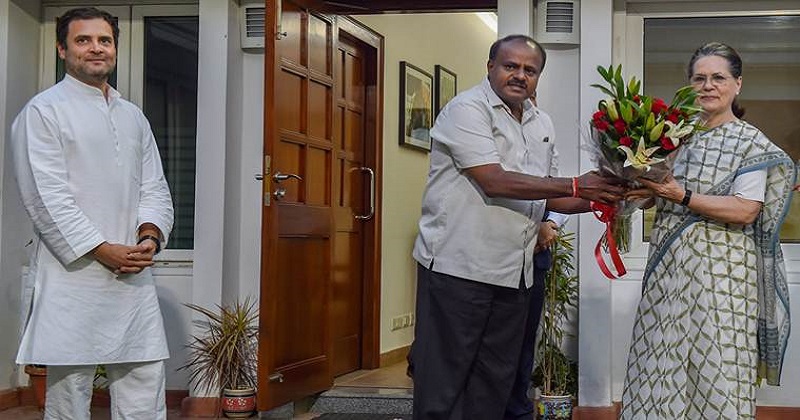 The swearing-in ceremony of Karnataka Chief Minister-designate H.D. Kumaraswamy on Wednesday will be used as a "show of strength" of the opposition parties ahead of the 2019 Lok Sabha polls, in a possible line up against the BJP.
But Telangana Chief Minister K. Chandrasekhara Rao decided to give the ceremony a miss and flew to Bengaluru on Tuesday to meet Kumaraswamy, apparently to avoid being seen in the company of Congress leaders.
Prominent leaders of around a dozen political parties including UPA Chairperson Sonia Gandhi, Congress President Rahul Gandhi, BSP supremo Mayawati, Samajwadi Party President Akhilesh Yadav, NCP chief Sharad Pawar, RJD leader Tejashwi Yadav, RLD chief Ajit Singh, CPI-M General Secretary Sitaram Yechury are all set to share the dais on Wednesday.
Besides these political heavy-weights, Chief Ministers Arvind Kejriwal (Delhi), Pinarayi Vijayan (Kerala), Mamata Banerjee (West Bengal) and Chandrababu Naidu (Andhra Pradesh) are expected to attend the oath-taking ceremony.
Striking a different path, Chandrasekhara Rao — who mooted the idea of an anti-BJP, anti-Congress federal front — will not be present.
Also Read: Amit Shah gets a hit back from designated CM Kumaraswamy
Actor-turned-politician Kamal Haasan of Makkal Needhi Maiam will also be skipping the swearing-in ceremony today. He will instead visit Thoothukudi, Tamil Nadu in light of the anti-Sterlite protests there, according to media reports.
JD(S)'s HD Deve Gowda called Shiv Sena chairperson Uddhav Thackeray and invited him for the swearing-in of the ceremony of HD Kumaraswamy, News18 has reported.
Uddhav Thackeray congratulated Deve Gowda but conveyed his apologies for not being able to attend the ceremony as his party is preparing for the Lok Sabha by-polls in Palghar, Maharashtra.
DMK working president MK Stalin will not be attending the ceremony as he will be visiting Tuticorin in light of anti-Sterlite protests.