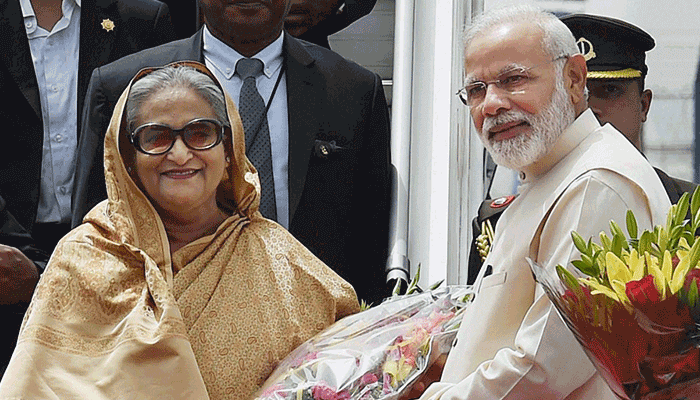 Today the Prime Minister Narendra Modi has extended a warm welcome to his Bangladesh counterpart Sheikh Hasina.
Prime Minister Narendra Modi, Bangladesh Prime Minister Sheikh Hasina and West Bengal Chief Minister Mamata Banerjee will share the stage at Visva Bharati University in Shantiniketan, West Bengal.
All three will attend the university convocation and inauguration of Bangladesh Bhawan on the campus.
The meeting assumes more importance this time given India's relationship with Bangladesh and the seething difference of opinion between Mamata Banerjee and PM Modi.
This is Modi's first visit to Santiniketan, the sprawling campus housing the university built by Nobel laureate Rabindranath Tagore in Bolpur sub-division of West Bengal's Birbhum district.
Bangladesh Bhawan has been constructed on a budget of around Rs 25 crore from Bangladesh and is the first of its kind from the neighbouring country built in recent times to commemorate the rich cultural similarities between the two countries.
Bangladesh Cultural Minister Asadduzaman Noor said, "It is a very prestigious moment because we are presenting the country to another country. Tagore had lived for several years in Bangladesh and he is a part of our culture…he was actually a source of inspiration and even Father of the Nation Bongabondhu Sheikh Mujib Ur Rahman would recite his poems in times of stress. This will strengthen bonds between both countries. Lots of things have been achieved together."
Interestingly, the politically-charged stage will witness rabindra sangeet performances and national anthems of both countries will be sung along with a speech from all three guests.
READ ALSO: Busy Prime Minister Narendra Modi will not give out the Awards; CM shocked
But all eyes will be on the lunch in the afternoon as all three leaders will spend time together where Teesta water treaty and Rohingya issue is expected to come up for discussion.
"Teesta is a problem for Bangladesh. This is an important meeting and the CM of Bengal will also be present there. In fact, Mamata Banerjee shares a very special rapport with our Prime Minister and so there will be discussions. The issue is expected to be resolved hopefully. The Rohingya issue is a big problem for us and it is a big pressure on our economy. We are under tremendous stress and we need support from India for the same too," Noor added.
Bangladeshi students in the university are set to perform in front of their Prime Minister as well.
Sabyasachi Bose, a student from Visva Bharati University said, "I am so excited that we have both PMs on the same platform to witness the national anthems of both countries being sung and Rabindra Sangeet also."
Another student said, "We have found a small Bangladesh in India too…it is a big and proud moment for all of us…especially the students."
Some are extremely enthusiastic to be a part of this historic moment.
Another Visva Bharati University student said, "We are getting an opportunity to perform in front of both the Indian and Bangladesh Prime Minister."
"We have a very important connection with Rabindranath Tagore… It is our treasure and pleasure to be a part of this Bhawan," one student said.
"We always give our love to everybody and there will be no exception this time," Noor said.
The impending election is a cause of concern of all three leaders. The tricky Teesta water sharing treaty is likely to be discussed but there is no official word on it.
On 26 May, Sheikh Hasina will be awarded an honorary D Litt by the Kazi Nazrul University in Asansol of West Burdwan district. She will also visit Jorasanko Thakur Bari, where Tagore was born, and Netaji Bhavan, the ancestral house of Netaji Subhas Chandra Bose, in south Kolkata.
Prime Minister Sheikh Hasina will return to Bangladesh on Saturday night.
Following the visit to West Bengal, Prime Minister Modi will be visiting Jharkhand's Sindri on May 25 to lay the foundation stone of various projects of the Indian government and the state government.