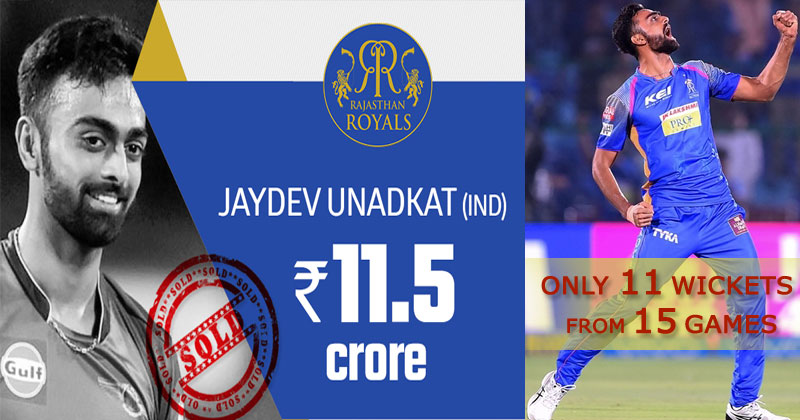 Indian Premier League (IPL) 2018 saw plenty of hits and misses. Big buys from the auction failed to make a mark whereas players who didn't even have a Wikipedia page proved their worth and scripted history.
Here's the list of bowlers whose one wicket costed their franchises the most, even beyond crores in some cases:
Washington Sundar:
Sundar had a terrific tournament before IPL 2018 auctions where he won the 'Player of the Series' award. The 18-year-old was roped-in by Royal Challengers Bangalore (RCB) for Rs 3,20,00,000. He was not in the best form in his debut season and seemed like a regular on the RCB side in the initial part of the tournament.
He managed to take only 4 wickets out of 7 games he played. His one wicket cost Rs 80 lakh to RCB.
Chris Woakes:
RCB picked Woakes in order to strengthen their weak bowling lineup. But the Englishman could not live up to the expectations. He got 8 wickets from 5 games. However, his economy rate (10.36 runs per over) became a big reason of worry for the RCB, especially in death overs.
His auction price was Rs 7,40,00,000. His one wicket cost Rs 92.5 lakhs to RCB.
Mohammed Shami:
Shami was marred with controversies as soon as he joined the Delhi Daredevils (DD) camp. He picked up just 3 wickets from 4 games he played and, similar to Woakes, he went for plenty of runs. His economy rate was 10.40 runs per over.
The fast bowler was retained through Right to Match Card (RTM) by DD for Rs 3 crore. His one wicket cost Rs 1 crore to DD.
Mitchell Johnson:
Johnson may have retired from all forms of international cricket but his reputation speaks for him. Kolkata Knight Riders (KKR) showed interest in the veteran and backed him for a few matches in the season. But, he failed to secure a permanent place in the side as English pacer Tom Curran was preferred over him.
The Aussie was picked for the base price of Rs 2 crore. His one wicket cost Rs 1 crore to KKR.
Also Read: Toughest IPL Final 2018: Who will be the match winner- MS Dhoni or Rashid Khan
Jaydev Unadkat:
Unadkat got 24 wickets in the previous season playing for Rising Pune Supergiants (RPS). That increased his stocks as the left-arm pacer got a whopping deal of Rs 11.5 crores from Rajasthan Royals (RR). But this time around he was not as lethal as he was expected to be.
He got only 11 wickets from the 15 games at an economy rate of 9.65 runs per over. He is unlikely to get a bid this high next season. His one wicket cost Rs 1.045 crores to RR.
Ben Stokes:
Stokes was the most expensive player of IPL 2018 auctions. The all-rounder was supposed to dazzle on the IPL stage despite being out of international cricket for a few months. He took just 8 wickets from 13 games he played. His economy rate was decent, but his inability to take wickets made him one of the most overrated players of IPL 2018.
RR roped-in Stokes for Rs 12.5 crores. His one wicket cost Rs 1.5625 crore to RR.
Marcus Stoinis:
The Australian all-rounder put Kings XI Punjab (KXIP) and RCB in a bidding war in IPL 2018 auctions. However, Stoinis struggled to make a mark on the field. He took just 3 wickets from 7 games he played and gave runs at a disappointing economy rate of 10.90 runs per over. His lack of form was one of the reasons KXIP missed out on the playoffs berth.
KXIP retained him through the RTM card for Rs 6.2 crore. His one wicket cost Rs 2.083 crore to KXIP.
Axar Patel:
Patel was the only player KXIP retained in IPL 2018 auctions. He missed out on a number of matches because of injury. He played a total of 9 games in this season and managed to pick only 3 wickets despite being their main bowler in the middle overs.
KXIP retained him in IPL 2018 retentions for Rs 6.75 crore. His one wicket cost Rs 2.25 crore to KXIP.