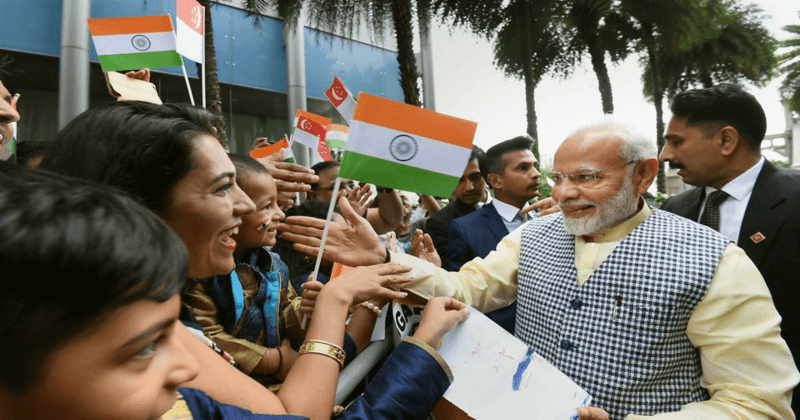 Prime Minister Narendra Modi on his three-day visit to Singapore, visited the Nanyang Technological University(NTU) thereafter his delegation level talks with Singapore PM Lee Hsien Loong on Friday.
Modi's visit to Singapore attains much significance with his 'Act East Policy' that is set to boost India's academic connect with Singapore. Becoming the first Indian PM to visit Singapore, Narendra Modi headed the exchange of six agreements and statements of intent between NTU Singapore and leading Indian universities, institutions and industry players on education and research to advance innovation for the digital age. Singapore Education Minister Ong Ye Kung accompanied him.
Delivering a speech at the university PM Narendra Modi said that world was convinced that the 21st century belonged to Asia and the biggest challenge was that whether the Asians felt it or not."Do we have that sentiment? Asia has seen major progress. We have to feel like we need to work towards making this century ours.", Modi said.
See also:Modi, the first Indian PM to address and deliver a keynote at Shangri La dialogue
To mark the new flourishing relations with Singapore and to commemorate his visit to the country, Modi planted a neem tree at the university premises. Mr Ong and the NTU President Professor Subra Suresh accompanied him. He participated in a dialogue with Professor Suresh on the theme Transforming Asia Through Innovation at NTU in the afternoon where he was confronted with a question on the technology being a disruptor. For this, the Prime Minister answered that if there was no disruption there could be no progress. He said that they must welcome disruption and not fear it because it led to greater talent and that disruption might look bad in the beginning but if they gave it the time it led to more jobs. He added that it found space and more jobs evolved through innovation. To prove this he took the issue of mobile phone boom. Inviting everyone's attention to the thing that the villages were sprawling with mobile phones which reduced the rich-poor divide and more jobs were got through the starting of mobile repair shops. Thus he pointed that technology could be used as a tool for social inclusion and to reduce the social divide.
Kris Gopalakrishnan, founder and former CEO of Indian giant Infosys, now chairman of Axilor Ventures, announced a whopping $4 million to support postdoctoral and student research activities at NTU. He said that he was impressed with the quality education and experience at NTU and was much delighted to partner in the NTU fellowship programme.
NTU is all set to enter into a research partnership with the National Institution for Transforming India(NITI) Ayog in the area of digital technology and Artificial Intelligence(AI). The areas of application will include health care, cybersecurity and e-governance. Under the ambitious Digital India programme, India is about to create a network of smart cities across the country which will transform India into a digitally empowered society and knowledge economy.
NTU's latest research that included social and telepresence robots Nadine and Edgar, Made in NTU satellites, Singapore's first 3D printed eco-car and a 3D printed toilet and other displays including the healthcare applications, AI-driven games and aging-in-place technologies, were seen by PM Narendra Modi and his delegation team as part of the tour there.
Later on Friday evening, Modi will deliver his keynote address at the IISS-Shangri-La dialogue, a major annual intergovernmental security forum, where he is expected to highlight India's Sagar Mala Programme which is a significant Indian project which aims to develop port development in the county and also an effort towards maritime connectivity and security in the region.