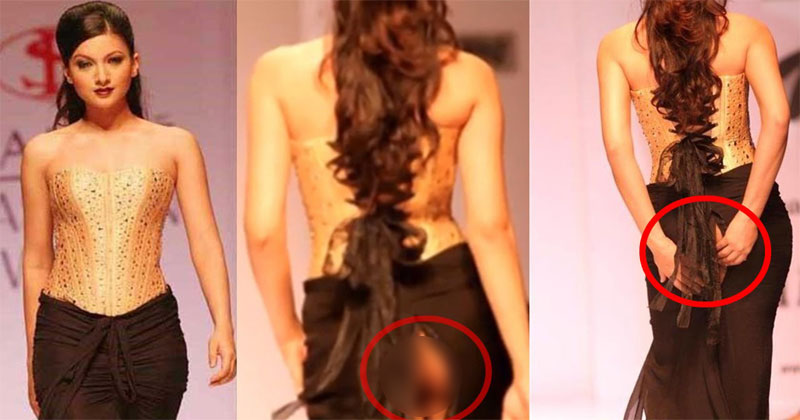 Lakme Fashion Week Summer Resort 2018 has started; but if we had to look back, there were many wardrobe malfunctions which took place at this event. The bi-annual fashion show too did not get missed from such embarrassing oops moments
Carol Gracious
In the year 2006, super model Carol Gracious faced a major wardrobe malfunction while walking down the ramp. She was wearing a pair of sexy golden and yellow separates, unknown of the embarrasing consequence. Her top fell down openly; even after she tried to hold it back.
Gauhar Khan
Gauhar Khan has always been our list of stylish celebrities but she too had to go through a major wardrobe malfunction at the Lakme Fashion Week in the year 2006.
This model was smartly flaunting her golden yellow front-slit top at the Lakme Fashion Week 2014; but she was unaware of this upcoming circumstance where her top lifted more than intended. It exposed her frontal privates and that became one of the biggest oops moments from that year.
Another could-have-been fashion blunder got saved in the peak moment, all courtesy of the audience. This model was confidently wearing a strapless orange gown at the Lakme Fashion Week 2015, where she was getting continous hints from the audience about her dress. She got the hints at the right time, holding up the outfit but unable to save her braless privates from being exposed.
Also Read: These are Bollywood actresses who become victims of a wardrobe malfunction in Sarees
Chitrangada Singh
Chitrangada Singh did look like a powerful warrior princess at the Lakme Fashion Week Autumn/Winter 2017, as she wore a Neha Agarwal bohemian outfit, but she too had to pass a fashion mishap moment. Under the deep plunging neckline dress, she was wearing silicon nipple guards, which made a peek-a-boo from beneath the dress.
Disha Patani
Industry's favourite fashionista, Disha Patani could have faced a big fashion blunder if her beau Tiger Shroff had not saved her at the right moment. Call it an 'Aww' moment or a 'saviour' moment, Tiger literally got up on the ramp to save Disha's sequin Manish Malhotra dress from rising too high on the ramp at the LFW 2017.