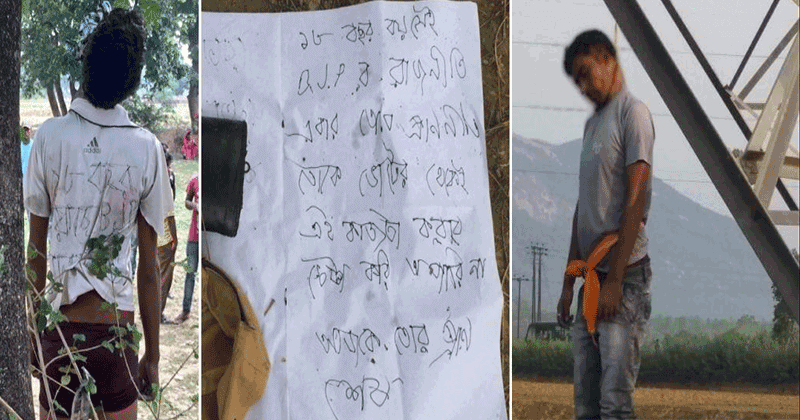 After the death of an 18-year-old BJP worker in West Bengal, another 'political murder' take place in the state.
32-year-old Dulal Kumar was found hanging from an electric pole in Dabha village of Purulia's Balarampur. Kumar, who was found hanging from a high extension electric tower, was previously a Congress worker.
The BJP has alleged that the ruling party TMC is behind the murders.
Dulal Kumar's death is the 2nd 'political murder' that has taken place in the state, first being that of Trilochan Mahato, an 18-year-old who was found dead on Wednesday.
Trilochan Mahato was found hanging from a tree near his home in Purulia district.
READ ALSO: BJP man found dead hanging from a tree in Bengal; a threatening note found
An unsigned handwritten note in Bengali found near the body stated that he was "punished for working for the BJP" during the recent rural polls in the state.
"Because you are involved with the BJP even when you are only 18 years, it has claimed your life. I have been searching for you since the panchayat elections and now you are dead," the note mentioned.
Trilochan's body was found 200 metres from his home. The victim, a final-year history student, was the son of the Dalit BJP leader Pano Mahato. The police launched an investigation but yet not made any headway in the abduction and murder case. 
Hundreds of BJP workers and leaders had protested and held demonstrations on Friday against the death of Trilochan.  Protests were also held outside several police stations by the party workers, who accused the state administration of failing to maintain law and order.
BJP won all the 7 Panchayat seats in the civic polls held in the Balarampur block, which has traditionally been a TMC stronghold. 
TMC, however, was quick to deny any wrongdoing on its part. Balarampur MLA Shantiram Mahato denied that TMC had anything to do with young Trilochan's death. Purulia Supritendent of Police Joy Biswas on the basis of prima facie evidence said personal enmity appeared to have led to the death and not politics.