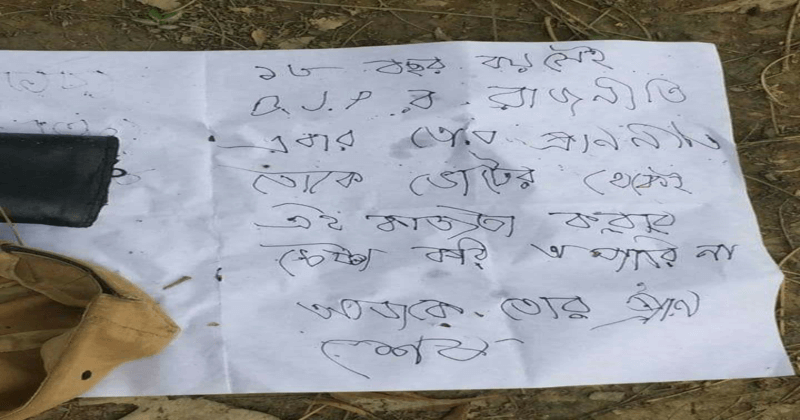 Earlier this morning, 20-year-old BJP worker Trilochan Mahato was found dead hanging from a tree in Bengal's Purulia district. According to BJP, Trilochan had worked hard for the party during the panchayat polls in Purulia where CM Mamata Banerjee's party suffered some setbacks. Trilochan was found hanging by his own trousers. His white Tshirt was found scratched with a threatening and chilling message. Another note was also found on a piece of paper left at his feet.
The messages when translated, read, "This is for doing BJP politics from age 18. Been trying to kill you since the vote. Failed. Today you are dead".The Police found a broken pen, a broken refill, a mobile, wallet, slippers and Trilochan's new bicycle.
See also:RSS Sanghpracharak Ravindra Gosain's death in Ludhiana :Terrorists with the help of Pakistan's ISI; plot unearthed by NIA
BJP President Amit Shah tweeted that he was deeply hurt by the brutal killing of their young Karyakartha. Shah included an image of Trilochan's body in the post and the tweet read "A young life full of possibilities was brutally taken out under state's patronage. He was hanged on a tree just because his ideology differed from that of state-sponsored goons."
A CBI inquiry was demanded by the BJP. While a Trinamool leader alleged that Trilochan was a victim of the infighting in BJP.Shrishti Dhar Mahato said that he wanted a CID(Criminal Investigation Department)probe and that there had been so much infighting within the BJP for a chair.
Trilochan's father has informed the Police about 6 people whom he alleges of threatening his youngest son, Trilochan.
There was widespread rigging of polls in Bengal along with large-scale violence and intimidation predominantly by the ruling front, Trinamool Congress cadres. Trinamool won one-third of the seats uncontested because there were no rival candidates.15 people were killed during the elections in which Trinamool Congress won. The party made a stunning victory in all the Zilla Parishads when the BJP came second.
BJP leader Rahul Sinha pointed to the media about Trinamool MP and Mamata Banerjee's nephew Abhishek Banerjee's erstwhile declaration of making Purulia opposition free. Amit Banerjee had said,"There is a lot of chatter about panchayat results in Purulia and Jhargram districts. I will go to Purulia on June 1 and ensure Purulia becomes opposition free, I promise you that".