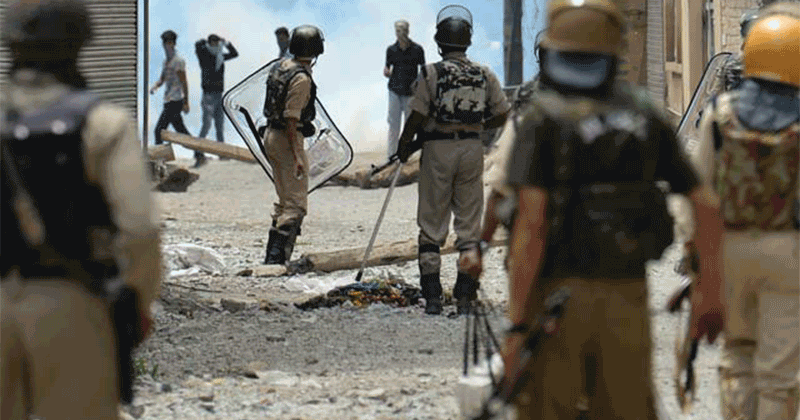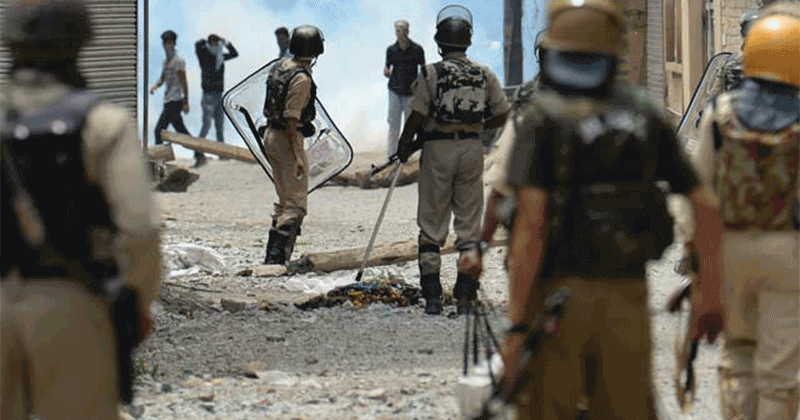 The mob has turned against the CRPF forces and the security forces in the state, attacking them with grenades and stones.
CRPF vehicles were the target of three grenade attacks in Srinagar, Jammu Kashmir on Saturday after a man, run over by its jeep, died late last night, sparking bouts of street protests in several parts of Jammu and Kashmir capital Srinagar. Four Central Reserve Police Force personnel were among eight people injured in Saturday's three attacks. There were earlier reports of a fourth blast too but police later said it was probably a tire burst.
Authorities had pulled the plug on mobile internet and imposed restrictions in parts of Srinagar to keep the peace after Kaiser Bhat, 21, died around last midnight. Kashmiri separatists, who called his death "plain murder" and called for a shutdown across Kashmir, were placed under house arrest, according to a news agency.
Hundreds of people gathered on the streets near Kaiser Bhat's house to join his funeral procession in violation of prohibitory orders.
As they marched towards Eidgah grounds some distance away, security forces tried to stop the procession leading to clashes. People threw stones at security forces who tried to disperse the mob. Dozens of tear-smoke shells and pellets were fired to chase them away. Some people later took the body to Eidgah where Kaiser Bhat was buried.
Elsewhere in the city, police said there were reports of stone throwing. "There were some incidents of stone pelting in downtown but our (policemen) exhibited restraint and used minimum force," Kashmir police chief SP Pani told a news agency.
Two cases have been registered in connection with Friday's incident where a CRPF jeep was targeted by scores of people, who tried to force the security personnel to open the armoured vehicle. The driver, however, raced to escape the crowd that was attacked with stones and iron rods. He ran over three people including Kaiser Bhat who died.
READ ALSO: Pakistan violates ceasefire again, kills 2 BSF jawans
The opposition National Conference has blamed the Mehbooba Mufti government and the police for the horrifying incident caught on camera.
Police said the CRPF driver had been charged with dangerous driving. A separate case was also filed against unidentified men for the attempted murder of the CRPF personnel in the vehicle at that time.
It was a very unfortunate incident," said senior CRPF officer Ravideep Sahi.
The driver, he said, demonstrated a high degree of presence of mind and manoeuvred their way from the mob else it would have turned into a huge law and order situation.
Former Jammu and Kashmir chief minister Omar Abdullah criticised the security forces, tweeting that they now "drive their jeeps right over protestors". Last month another protester was killed by a police armoured vehicle in Srinagar. Police initially denied involvement in the death until a video – shot on a mobile phone – showed the vehicle hitting the man. Police said it was an accident.
Union minister and lawmaker from Jammu region Jitendra Singh countered him, saying some politicians found security forces "soft targets" and were quick to condemn them.
Later in the day, terrorists lobbed a grenade towards a security forces patrol party in Fatehkadal area of Srinagar that injured three security personnel.  In the second attack, a CRPF vehicle in Budshah Chowk area near the city centre here, injuring another jawan. The third grenade attack took place in Magarmal Bagh area of the city but there was no damage due to the explosion.