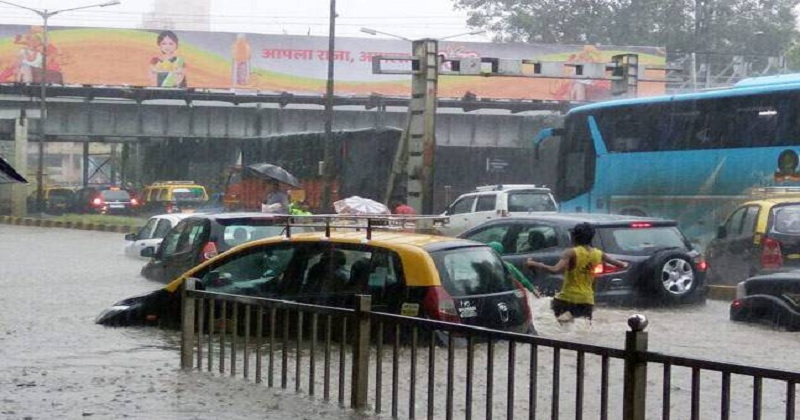 Heavy Rain Lashes Mumbai, 3 Killed Of Electrocution
Pre-monsoon showers accompanied by gusty winds lashed Mumbai and surroundings on Saturday even as three people were killed in incidents of electrocution, officials said.
The rains started this evening in many parts of Mumbai, Thane, Palghar, Raigad and Ratnagiri after dense cloud formation since late afternoon, and later developed into a thunderstorm with lightning and continuous drizzling.
In the first rain-related tragedy, two persons including a minor girl, were electrocuted when they came in contact with a live wire during heavy rains in Khindipada of Bhandup West here.
The victims — Anil Yadav, 32 and 9-year-old Zara Yunus Khan — were rushed to the M.T. Agarwal Hospital in Mulund, but were declared dead.
In another such incident in Bhandup East, Om Fadtare, 23, also died of electrocution.
The India Meteorological Department (IMD), Mumbai issued a storm warning for Thane and surroundings, with chances of thunderstorms, lightning, strong winds and rains in many parts this evening.
Also Read : A Bus Driver and Biker Combined Well to Stop an Accident. Watch Video
Flight operations at the Chhatrapati Shivaji Maharaj International Airport were hit with delays in arrivals and departures and diversions of several domestic, international and cargo flights.
While Sri Lankan Airways' Colombo-Mumbai flight was diverted to Ahmedabad, other flights of Jet Airways, GoAir, Qatar Airways and various airlines were also diverted.
Jet Airways announced that due to air traffic congestions following adverse weather conditions, delays of up to 45 minutes in departures and arrivals were expected till 11.30 p.m tonight.