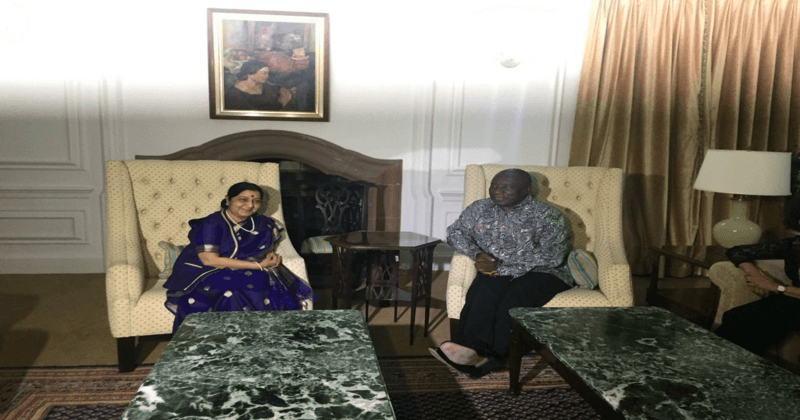 Giving emphasis to the strengthening of ties between India and South Africa, External Affairs Minister Sushma Swaraj had discussions with South African President Cyril Ramaphosa on Sunday.
MEA spokesperson Raveesh Kumar posted a picture of the meeting in his Twitter account. The tweet reads,"EAM @SushmaSwaraj called on President of South Africa, Cyril Ramaphosa. Leaders discussed ways to make further progress in areas of bilateral and multilateral cooperation".
See also:Sushma Reaches out to Iran on Nuclear deal defying the US sanctions
Sushma as part of her 5-day visit to South Africa reached the capital of South Africa Johannesburg on Sunday evening. A picture of Sushma's meeting on arrival with South African Deputy Foreign Minister Luwellyn Landers, was also posted by Raveesh Kumar on the microblogging site. Kumar tweeted,"Centuries old relationship! On her arrival in South Africa, EAM @SushmaSwaraj was heartily received by Deputy Foreign Minister Luwellyn Landers,".
The External Affairs Minister will be having meetings with the top leadership of South Africa, participating in the BRICS Foreign Ministers Meeting on June 4 and chairing the IBSA Foreign Ministers meeting, the MEA Statement reads.
BRICS includes the countries of Brazil, Russia, India, China and South Africa.IBSA is a tripartite group consisting of India, Brazil and South Africa.
The Phoenix Settlement, a South African Heritage Site founded by the father of our Nation Mahatma Gandhi, an abode where he devised his principle of non-violence, will be visited by Sushma Swaraj on June 6. Sushma Swaraj is also expected to participate in a series of events at Pietermaritzburg on June 6-7 to commemorate the 125th anniversary of the "historic incident in the train compartment that became a catalyst for Gandhiji's Satyagraha movement".
The two-day commemoration activities include the release of joint commemorative stamps on Oliver Tambo and Pandit Deen Dayal Upadhyaya and a Youth Summit with an active participation of 20 diaspora youth from Africa and 5 others from India to speak on the relevance of Gandhiji's message of peace to the youth of today.
This year has much importance relating to India and South Africa as it marks the 25th anniversary of diplomatic relations between both nations and also marks 125th anniversary of Gandhiji's Pietermaritzburg railway station incident, along with all that, this year celebrates the 100th birth centenary of South African leader Nelson Mandela.
On a scathing incident of racial attack at the Pietermaritzburg railway station on June 7, 1893, Mahatma Gandhi was thrown off a train while travelling from Durban to Pretoria in the first compartment. This incident marked a new era of protests holding up the principles of non-violence and setting a model for all the worldwide freedom movements through his act of civil disobedience.
Gandhiji's refusal to vacate the seat on the order of white colonizer officer led to the incident in which he was thrown out of the train.