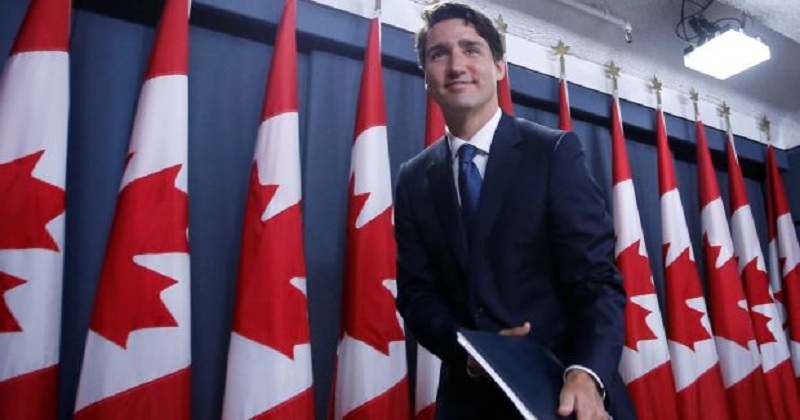 'The trip to end all trips,' Justin Trudeau makes fun of his visit to India
Canadian Prime Minister Justin Trudeau recently proved himself to be a good sport when he took a dig at himself and his government while discussing his India trip, which was the subject of severe criticism, thanks to diplomatic gaffes and Trudeau's choice of outfits. He made several self-deprecating jokes regarding his trip while addressing Canada's annual Parliamentary Press Gallery dinner. 
Calling the India visit "the trip to end all trips," Trudeau presented a slide-show of photographs from his tour which essentially recounted the gaffes that took place during his eight-day visit to the country in February this year. The 'presentation' began with an inverted map of India, perhaps in a bid to describe the roller-coaster trip itself. 
"We didn't go to India…I don't remember the India trip," said Trudeau, even as he likened the experience of the official visit to that of the pain caused by "the ripping off of a band-aid", the Times of India reported. 
At one point, the Canadian Prime Minister even termed the visit to India the "beginning of the end"as he started going through the slide-show. He then proceeded to joke about being received by the minister of state for agriculture Gajendra Shekhawat, as opposed to Prime Minister Narendra Modi, who in the past had personally received several heads of states, usually with his signature warm hug. Many media reports had regarded it as a "snub"to the Canadian PM by the Indian government. 
He also took a dig at himself for his rather 'over-the-top' choice of attire during the trip, which had received a lot of attention in the media. A slide showed the picture of Trudeau meeting Infosys chairman Sali Parekh. At this, the  PM said, "Here I am. Meeting with the CEO of Infosys. A company that for the record announced new investments in Canada, during the course of this trip." "But you guys (journalists) didn't report on it because I was wearing a shirt and tie. Boring!" he deadpanned. 
The next slide of the presentation included the picture of Trudeau, wearing a gold sherwani, and Bollywood actor Shahrukh Khan, wearing a black suit. "One of us is seriously under-dressed. How embarrassing for him," Trudeau quipped, much to the delight of the audience at the event. 
Also Read : Relief for North Korea when accepted verified steps to denuclearize: U.S Defense Secretary
The slide-show also included the very famous photograph of his youngest son, Hadrien, "planking" at the Gandhi Memorial in Delhi, even as the rest of his family members were busy signing the guestbook, TOI reported. "This was the point when he totally gave up on the trip," Trudeau commented in a hilariously candid confession. 
The Prime Minister also spoke about the controversial photograph of his wife, Sophie Grégoire Trudeau, who was snapped posing along with a convicted Khalistani terrorist, Jaspal Atwal, at an event in Mumbai. The presentation showed the cropped-up image of Mrs. Trudeau, with the Prime Minister quipping, "What a gorgeous photo, media couldn't stop talking about this one…such a beautiful dress."
PM Trudeau ended the slide-show with the sarcastically funny remark : "That was India, the trip to end all trips. Seriously, I've told my team I'm not going anywhere ever again!"