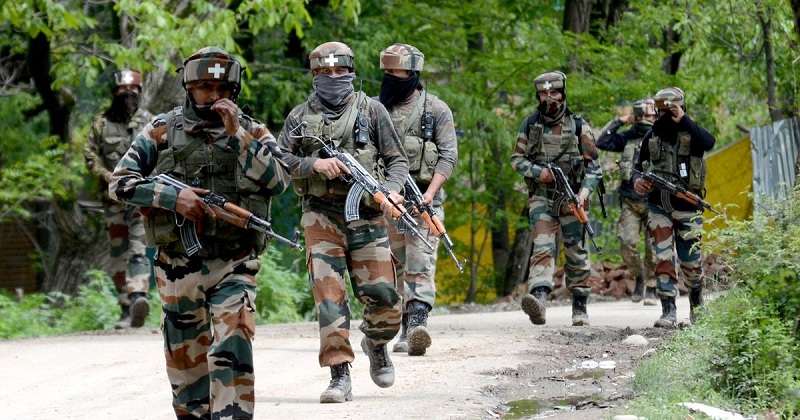 Centre to deploy more battalions in the border areas of J&K
Union Home Minister Rajnath Singhon Friday said that nine new battalions will be deployed in the border areas of Jammu and Kashmir.
Taking note of the repeated shelling by Pakistani forces, Rajnath said that the Centre will soon take a call on extending the ongoing suspension of operations against terrorists in Jammu and Kashmir after Eid.
Addressing a press conference on his two-day visit to Jammu and Kashmir to review the security situation, Rajnath said, "We will soon take a decision on whether to extend the ceasefire beyond Eid or not against terrorist operations in Jammu and Kashmir after reviewing the situation and meeting with people in the state."
Rajnath stated that the central government has sanctioned two new women battalionsfor Jammu and Kashmir police, adding that it will boost employment prospects to nearly 2,000 women in the state.
Also Read : This is what Rajnath Singh says about Prime Minister Narendra Modi's security
"The Ministry of Home Affairs (MHA) has sanctioned two new women battalions for Jammu and Kashmir police. One battalion will be for Kashmir division and one battalion for Jammu division. This will provide direct employment to nearly 2000 women of Jammu and Kashmir," the Home Minister added.
Announcing relief measures to those affected in the constant ceasefire violation, Rajnath said, "The MHA has revisited scheme of giving Rs. 5 lakhs for persons killed during cross-border firing and ceasefire violations. Now this amount of Rs. 5 lakhs will be directly credited to the account of next of kin and all conditions relating to fixed deposit have been removed."
To woo the migrants and refugees residing in the state, Rajnath continued, "The relief given to Kashmiri and Jammu migrants was increased to Rs. 10,000 in the year 2015. Now we have decided to give 30 percent hike. This amount will be increased to Rs. 13,000 per family per month."
"We have decided to give financial assistance of Rs 5.5 lakh per family for West Pakistan refugees settled in Jammu and Kashmir. Nearly 5,764 families will be benefitted from this decision," he further said.