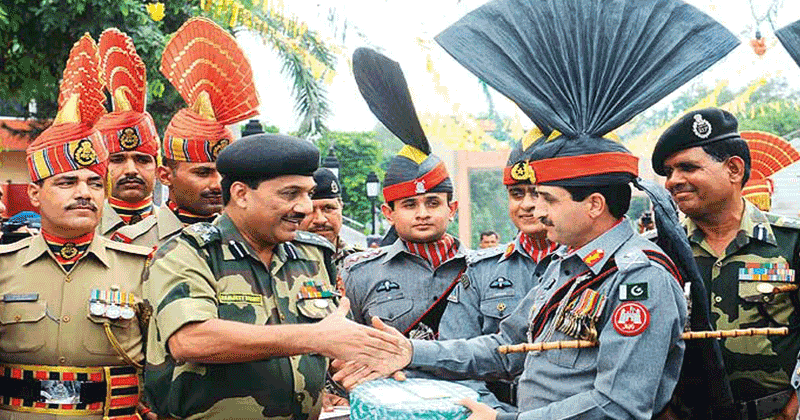 Will India and Pakistan work out their differences and ever come together? Although this might seem like a dream, it is true.
India and Pakistan are indeed coming together for this mission.
After having fought the Pakistanis in 1965, 1971 and 1999 wars, about 200 Indian soldiers, mainly drawn from the 5 Rajput Regiment, and airmen from the Indian Air Force, will train alongside Pakistani soldiers, besides military personnel of several other countries, including China and Russia, in an exercise to eliminate terrorists and neutralise their networks.
It will mark the first time ever that Indian and Pakistani soldiers will train together. In the past, Indian and Pakistani soldiers have operated only under the United Nations mandate in foreign lands as peacekeepers.
The week-long exercise called "Peace Mission 2018" will take place from August 22-29 at Chelyabinsk in west-central Russia under the umbrella of the Shanghai Cooperation Organisation.
READ ALSO: A historical understanding between India and Pakistan
"The Indian soldiers, led by a Brigadier-rank officer, will fly out in an IL-76 with their weapons, while tanks and other heavy equipment will be provided by the Russians to be used by our soldiers from our mechanised units," a source familiar with preparations told this newspaper.
The Indian military is very familiar with Russian weapons and weapon systems as most Indian weapons are of Russian origin.
The two South Asian neighbours, both nuclear powers, have a bitter and acrimonious relationship that has led to wars and incessant cross-border firing. The India-Pakistan rancour is a possible flashpoint for future wars.
Chelyabinsk, located close to the Ural mountains, will also host the meeting of the Council of Heads of SCO nations and the meeting of BRICS leaders in 2020.
Held once in two years, "Peace Mission 2018" will be the fifth edition of the multilateral exercise but this will be the first time for both India and Pakistan, that became SCO members on June 9, 2017.
Being the host country, Russia is expected to participate in a big way in terms of men, material and sophisticated weapon systems, to be followed closely by China.