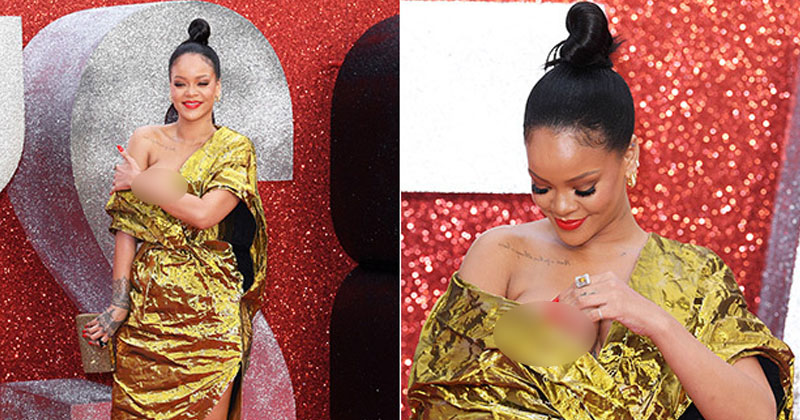 Rihanna was risking a serious wardrobe malfunction with her choice of gowns at the Ocean's 8 premieres in London on June 13. The singer/actress wore a futuristic dress that looked as if it was made from gold tinfoil.
Her right sleeve hung dramatically off of her shoulder but gravity ended up pulling it a little too far. Her boob started spilling out and she had to cling on to the fabric to avoid a serious red carpet nip slip.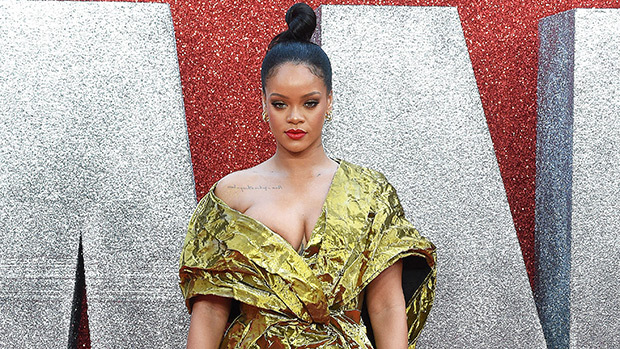 She was this close to giving the photographers quite the eyeful, but ever the pro she kept smiling and posing while holding on to her sleeve for dear life so that it didn't fall any further.
Also Read: Awkward wardrobe malfunction of Coronation Street actress at Soap Awards 2018
The 30-year-old has been killing it with her fashion and makeup for the entire Ocean's 8 promotional tours, wearing dramatic statement gowns that flatter her curves.
Her gold metallic number in London was no exception, as near nip slip aside, she showed plenty of cleavages while the cinched waist highlighted her hourglass figure. She wore her head in a tight top knot high above her head so that her stunning outfit got all of the attention.