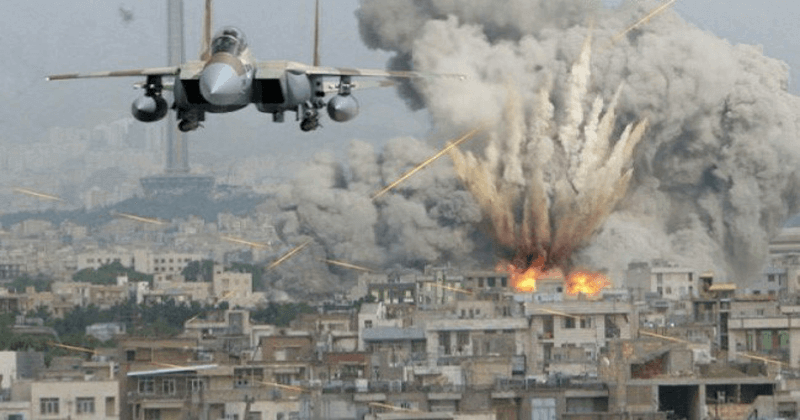 An airstrike which hit the town Al-Hari in eastern Syria killed 40 pro-regime fighters. Damascus accused the US-led coalition of the strike which has been denied by them.
Those killed in the strike were part of the regional militia who had been fighting in a seven-year war on behalf of the President Bashar al-Assad. Britain based, Syrian Observatory for Human Rights, termed it as one of the deadliest strikes on government loyalists in recent months.
Exact nationalities of the dead have not been verified yet but the area had been stationed with Iraqi, Iranian, Lebanese and the Afghan fighters.
The terror group ISIS had taken over large areas of Syria and neighboring Iraq in 2014 and declared a "caliphate" there. Thanks to the coordinated attacks by the world powers like the US and Russia and also the regional Kurdish and Arab fighters, the large swath of land under ISIS diminished to a few pockets in the eastern area, like Deir Ezzor province where Al-hari lies.
Kurdish and Arab fighters are given back up by the US while the Russian Forces support regime forces and both their teams carry out separate operations against the little pockets of ISIS in the eastern area. Some Iraqi warplanes have also sometimes bombed the ISIS positions in Syria's east.
See also:31 killed in Twin suicide bomb attacks in Nigeria
Anyway, the forces have not crashed into each other thanks to the deconfliction line that runs across the province along the circuitous Euphrates river. Syrian troops fight the ISIS on the western part of the river bank when the US-backed Syrian Democratic Forces have taken charge on the eastern part of the river.
Al-hari belongs to the western side which is close to the river and the de-confliction line.
Though the areas are clearly determined, attacks have happened contrary to this.
A dozen pro-regime fighters were killed in an air strike on Syrian Government positions, which was blamed on the coalition by Syrian Observatory and the State media.
In February, a US-led coalition air strike killed at least 100 pro-regime fighters in Deir Ezzor province, including Russians.
According to Syrian Observatory Chief Abdel Rahman, the strike on Al-hari produced the highest death toll solely for the regime forces since February.
From the inception of the Syrian conflict in 2011, more than 3,50,000 people have been killed so far. The conflict also had seen the rise of the most deadly terror organization ISIS, which drew the world powers into the scene.
The recent strike on Al-Hari came just a day after the US-backed SDF announced the ousting of ISIS from the village of Dashisha, in Hasakeh province in northern Syria.