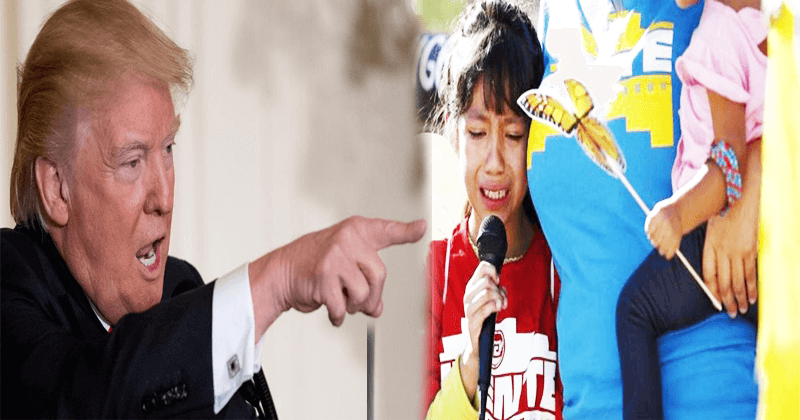 Little children in the age group of 4-10 are getting separated from their parents thanks to Trump administration's new rule of immigration enforcement which puts a criminal charge on every person who gets caught crossing the border illegally.
Pro Publica, a non-profit journalism organization has published an audio clip claiming to be taken from one of the facilities run by US Customs and Border Protection where the children are kept after being separated from their parents.
The recording contains the sound of uncontrollable sobbing by children calling for their "Papi(Spanish for father)" and "Mami(Spanish for mother)" or a relative. Some children are heard pleading with the consular officials for calling someone whose number they had with them.
See also:Trump administration to rescind H4 rule on spouses of H1B Visa holders
This event has added fuel to the currently run emotional debate on immigration and also emerged as an incident which in future will see the rise of a joint opposition towards Trump.
Additional pieces of evidence like photographs and documentation show the callousness that the Federal Immigration Policy shows towards the families along the border.
According to ProPublica report, more than 2300 children have been separated from their parents as a result of the new policy. They said that the audio clip contained sounds of 10 children from Central America who had been separated from their parents last week.
"Well here we have an orchestra", said a Border Patrol Agent over the sobbing sounds of children.
In the audio, a 6-year-old from El Salvador is heard asking help to call her aunt whose numbers only she remembered. When Pro Publica activists called one of the numbers provided by her aunt conveyed the emotional dilemma that she was in and the helplessness.
The audio clip had been provided to Ginger Thompson, Pulitzer-prize winning reporter and former New York Times Bureau Chief in Mexico City, by Jennifer Harbury, a well known civil rights attorney who had worked on border issues in Texas for decades.
When contacted by 'The Washington Post', Harbury mentioned the source of the audio clip as got from a whistle border who approached her for legal advice. She did not disclose anything on questions about CBP facility, citing client's privacy.
Anyhow Kirstjen Nielson, Head of the department that oversees immigration and border security, rapaciously defended the US policy and denied any instance of "child abuse".
She said that they(officials) had high standards and that the children were provided with meals, education and medical care. "There are videos, there are TVs," Nielson added.
She considered the photos and reports as the things which reflected "the focus of those who post such pictures and narratives".Accusing that the recent reports lacked a balanced view she added that what happening in the border was that the border had been overrun by those who had 'no rights' to cross it. The people who entered illegally were criminals and by entering with children, they put their life too at risk, Nielsen said.
Stephen Engelberg, the Editor in Chief of Pro Publica told The Post that their decision to publish the audio was a 'straight forward' one and that as a matter of public interest everybody should know about it.
In the US, the opposition is rising towards Trump administration's new policy on immigration, from within his own party as well as the Conservatives.
On Monday, Roselyn Carter, the wife of former Democratic President Jimmy Carter, became the newest and the last of living former first ladies to join Laura Bush, W/O George Bush, and Michelle Obama, W/O Barack Obama, in a rare intervention to oppose the Trump administration's policy.