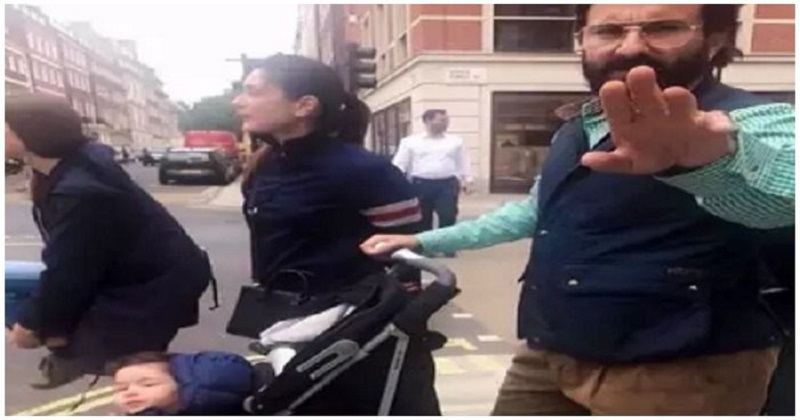 While our Bollywood stars have worked hard to achieve stardom, there is someone who was born with fame. Yes, we are talking about Kareena Kapoor Khan and Saif Ali Khan's baby boy Taimur Ali Khan. Now, Taimur is a favourite of paparazzi in India and we now came to know that people abroad love him too – maybe a tad too much for Saif's comfort.
Bebo and Saif are presently vacationing in London with their baby boy. When a passerby saw the family, they tried to take a picture of the trio, especially Taimur. But Saif got very upset at the move and it seems from the pictures that he tried to get the person to stop taking photos and give him and his family some privacy. Taimur, on the other hand, is already used to the attention, it seems, as he looks unfazed in the photo.
Also Read: Saif Ali Khan's Son Ibrahim Ali slammed on social media for posting picture with beer on Eid
Other pictures of the trio are also trending on social media. In one of them, Kareena looks breathtaking in a pink sweater as she poses for the camera, while Saif taught their son about nature. And Taimur looks really cute as he points at something.
While Taimur has become a huge celebrity even before his official Bollywood debut, we wonder what will happen when he actually gets launched. Now, Taimur's big sister Sara Ali Khan is all set to make her Bollywood debut and start a new trend for Gen Next Pataudis.