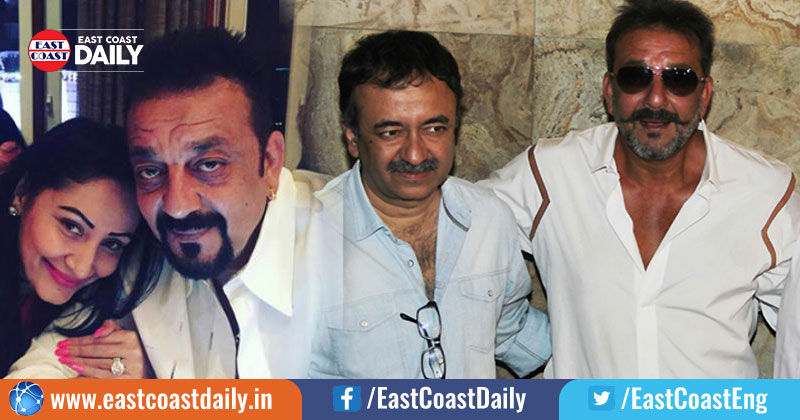 It's a known fact that Sanjay Dutt's life story is quite a colorful one. The actor has always been controversy's favourite child and often found himself in news for the women he dated. Out of which his affair with Madhuri Dixit, Tina Munim, and others still finds a place in the throwback section of gossip columns. The trailer of Sanju left everyone curious with the scene when Ranbir playing Sanjay Dutt is seen revealing that he has slept with about 308 women in his life.
if you thought that it was his good looks and charm which made him a ladies man, then that's not the case. Recently while speaking to India Today, 'Sanju' director Rajkumar Hirani revealed a shocking secret about that the actor. Want to know what's it all about? Then scroll down to read-
Hirani revealed that Dutt used to take some of the women to a grave. The filmmaker revealed, "He would start dating a girl and take her to this graveyard. He would say, 'I have brought you here to meet my mother."
Also Read: Ranbir Nailed As Sanjay Dutt In 'Munna Bhai' After 15 Years: Video
Hirani further said, "He would say, 'I have brought you here to meet my mother.' After this unusual meeting, the girl would feel emotionally attached to Sanju." It will make girl emotional with him.
In reality, the grave was not his mother's. But the women used to fall prey to Dutt's words. Hirani revealed that Sanjay Dutt would not just makeup stories and lie to score emotionally with his girlfriends, he was pretty vindictive as well.
A director recalled, "A girl broke up with him. So, Sanjay took his friend's new car and smashed it into another car parked outside his ex-girlfriend's house." "Later on, Sanju found out that the car he rammed into belonged to his ex-girlfriend's new boyfriend. Both cars were severely damaged." Interestingly, Ranbir Kapoor who plays Sanjay Dutt is often perceived as the present day Casanova of the industry. But in reality, the actor recently admitted that the count of his girlfriends is even less than 10.
The Sanju movie is set to release on 29th June.