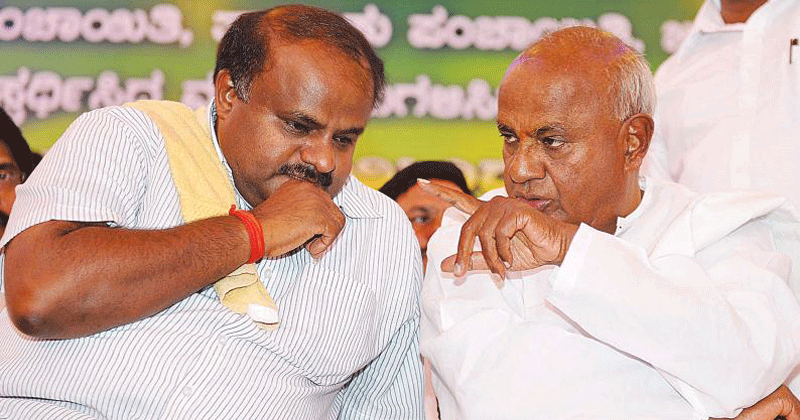 The Cauvery issue is still a sore subject between Karnataka & Tamil Nadu. And the solution brought forth by the BJP government is not satisfactory to neither states.
Karnataka Chief Minister H D Kumaraswamy on Saturday accused the Centre of having taken a "unilateral" decision informing the Cauvery Water Regulation Committee (CWRC), hurting the state's interests.
"We had given certain suggestions about the formation of the panel, but the Centre took a unilateral decision. The interests of the state have been hurt by the formation of the panel. Our (state's) rights have been taken away," Mr Kumaraswamy said.
Based on the matter, father HD Gowda cools down CM Kumaraswamy with this piece of advice.
READ ALSO: Kumaraswamy Refuses to Accept P.M Modi's Fitnesss Challenge, But Says This
Kumaraswamy was adviced not to get into a confrontation with the Centre on the matter, but instead to submit a detailed report on rain in the Cauvery basin, water availability, water requirements of the state and a plan on how to solve the problem over water sharing within the ambit of the Supreme Court judgment.
Heeding the advice, the CM held a meeting on Sunday with the water resource, legal and agricultural experts to prepare a detailed report to submit to the various departments in the Center.
Besides, he has decided to write a letter to the Prime Minister on Monday, seeking a fair hearing for the state on the Board.
Gowda explained the adverse effects, if the state adopted a confrontational path with the Centre now as the Board is likely to take a lenient stand vis-a-vis Tamil Nadu Instead, the state should provide minute details on Cauvery water and the requirements of the state to the board, he stressed. He cited an example from 2007 when he got 11 tmc ft of water for Bengaluru city for drinking purposes alone.
Meanwhile, Kumaraswamy, while preparing a detailed report, also asked the officials to write a detailed letter to Prime Minister Narendra Modi, seeking his intervention to ensure the state gets a fair hearing in the Board. The letter will be sent to the PM on Monday.