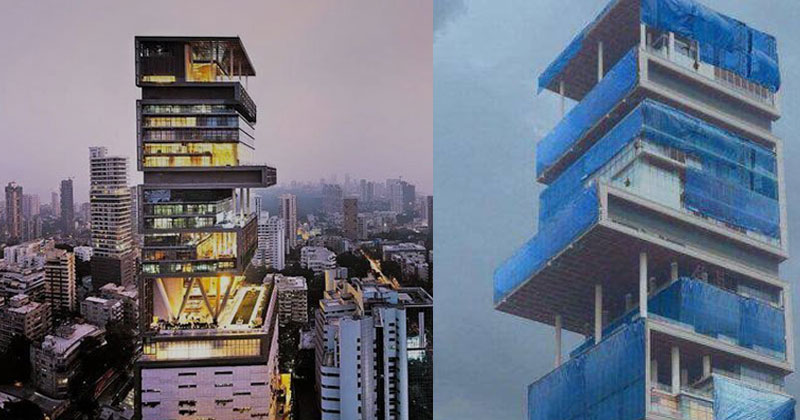 The season of monsoon is here in Mumbai and the everlasting beauty of the city when it rains can never really be explained. Amid the monsoon getting stronger the fake image of Mukesh Ambani's Antilia being covered in a shabby blue tarpaulin is going viral. And this time with Maharashtra government banning usage of plastic, netizens are worried how will Ambanis cover their billion-dollar home.
This year the season brought in little stress for citizens but definitely proved to be a major development. Plastics have been banned in the state and if anyone is found with one, will be charged with a whooping amount of Rs. 5000. Hence, social media again has been surfaced with the old picture of India's richest man's Antilia covered in a blue tarpaulin wondering what would Ambani do amidst with plastic ban. Alright! First of all, Mukesh Ambani's house is the most expensive property in the world which is valued at around 1 billion US dollar. And secondly, the image is too farfetched because it is significantly fake.
Also Read: Ban on the use of plastic in Maharashtra in active: State environment minister Ramdas Kadam
Not everything that comes on the internet is true. Last year as well, images of the 27-floor building looking all shabby went viral. It is too much to think that world's most expensive building is so easy to get wrecked during monsoon. And the Reliance head-honcho at present is definitely not going money-less. So, netizens just keep your calm and try not to be a part of such rumour. The lavish building had drawn criticisms since its inception with many calling it a showpiece of bizarre wealth by Ambani.
Amidst all the speculations, the family is busy as their twin's wedding is on the card. Two nuptial ceremonies back-to-back, Akash Ambani and Shloka Mehta followed by his twin sister Isha Ambani with Anand Piramal is scheduled this year. We cannot wait for the upcoming beautiful couples' images of marriage to go viral on social media.