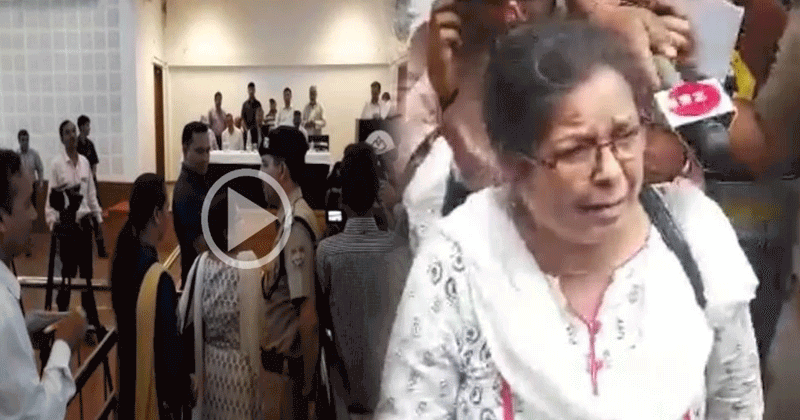 It is in the right of a teacher to demand their raise, promotion (if any) or transfers. But this teacher was denied her right.
On Thursday, a primary school teacher was suspended by the Chief Minister as she created a ruckus.
Uttrakhand Chief Minister Trivendra Singh Rawat was addressing complaints at the Janata Darbar when the teacher created a ruckus.
57-year-old Uttara Pant Bahuguna was demanding a transfer from Uttarkashi to Dehradun when she allegedly flew into a rage, hurling abuses at the Chief Minister for not addressing her grievances.
CM Rawat lost his cool and suspended the teacher thereafter and ordered the police constables stationed in the hall to 'immediately' arrest Bahuguna. 
While they were taking her away, she called the Chief Minister a thief in a fit of anger.
Watch VIDEO uploaded by ANI
#WATCH Uttarakhand Chief Minister Trivendra Singh Rawat directs police to take a teacher into custody after she protested at 'Janata Darbar' over issue of her transfer. CM Rawat suspended the teacher and asked her to leave. (28.06.18) pic.twitter.com/alAdCY74QK

— ANI (@ANI) June 29, 2018
In an exclusive interview, Bahuguna reveals that she has been posted in the remote Uttarkashi for the past 25 years as a primary school teacher.
READ ALSO: CBSE initiates action against 130 teachers for this reason
After her husband passed away in 2015, she was finding it really difficult to attend to her children's needs, who study in Dehradun. Hence, she made repeated requests to the authorities to authorise her transfer to the state capital.
The teacher said that she never planned on creating a ruckus at the Darbar, but when the Chief Minister raised his voice, her grief transformed into anger, which led to the unfortunate event.
According to her, she was taken to the Vasant Vihar police station and issued challans. The police also told her to stay away from the media. 
Meanwhile, the CM was criticized on the social media and by the Congress for his behaviour and lack of patience.
But Rawat defended himself saying that the teacher was suspended after she used abusive language during the Janata Darbar. He also added that the request for transfer should not have been brought on a platform like the Janata Darbar, which was meant for public grievances. He further said that the transfer orders will be looked into as per state's transfers act and will be done accordingly.