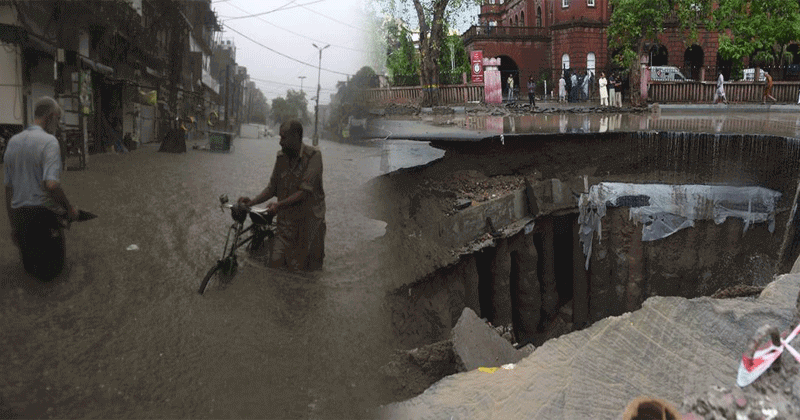 The monsoon season has hit India and her neighbors. But unlike the moderate fall of rain that the people have been hoping for, they got torrents of rain nearly drowning them.
Heavy rain has continued to stir chaos in Lahore, Pakistan on Tuesday, July 3. Now, two massive sinkholes have formed in the middle of the city's Mall Road.
RT ARYSports_Web: Gaddafi Stadium Lahore after #Rain pic.twitter.com/l3D4M985HH #FlashAlert #Karachi #Pakistan #NewsPK #AryNews

— UK ? (@UmarKamran96) July 3, 2018
In the last 24 hours, a total of 252 millimeters of rain has been recorded in the city so far and it has killed at least 6 people.
?? ?? ???? ???? ??? ??? ?? ?? ?? ??? ??? ???? ??? ???? ???? ??? ???? ?#ParisBecomesVenice pic.twitter.com/IMzpOj9WyF

— Umar FarOoq ?? #NA135 #PP161 (@UmarFarooqGL) July 3, 2018
While many parts of the city remained submerged in rainwater, residents were surprised as the sinkholes formed before their eyes.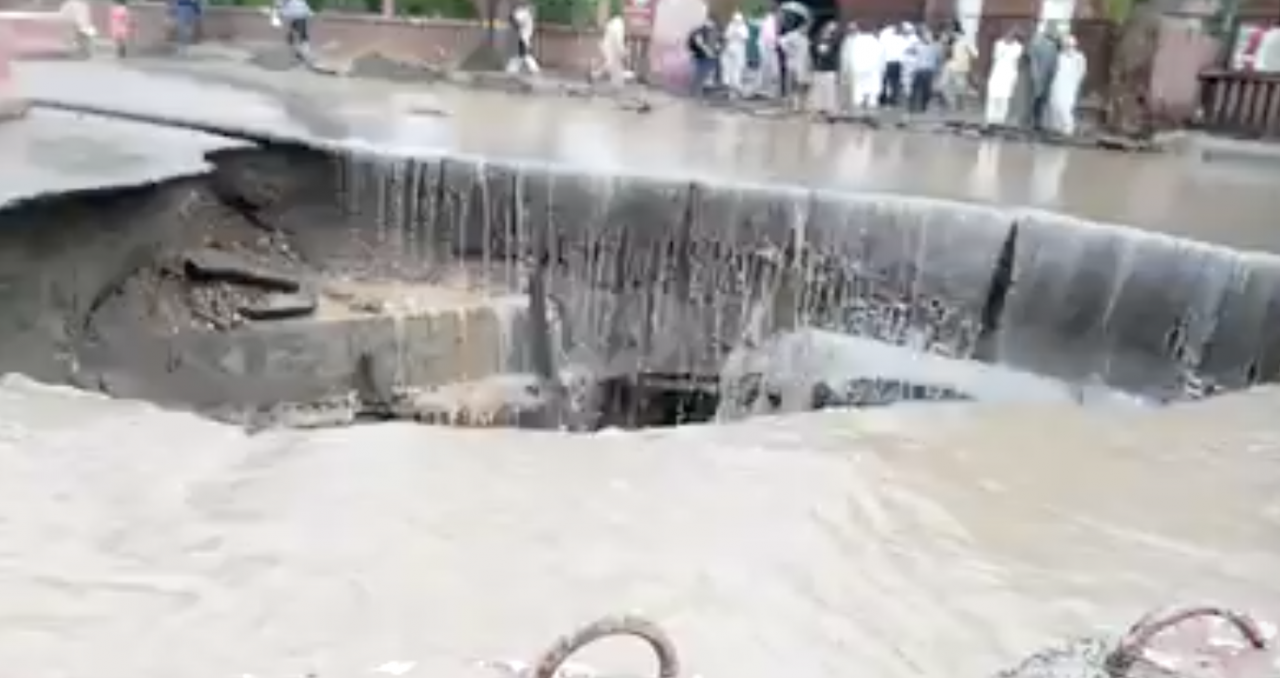 Sinkholes are massive cavities in the ground found due to water erosion, allowing surface water to find it's way underground. If gone unnoticed, they can be very dangerous especially in hugely populated cities like Lahore.
The hole is so big, that people are naming it 'Niagra Falls.'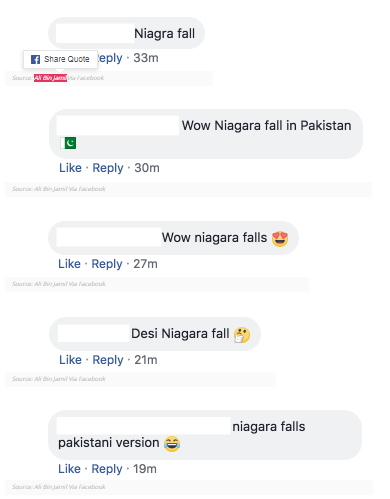 Currently, the area has been barricaded and traffic has been diverted away, according to a Pakistan-based news television channel.
READ ALSO: Foot-over Bridge Collapsed Due to Heavy Rain: Breaking News
Following the rain-related catastrophes, people are blaming the government for poor planning and mismanagement. National security analyst Zaid Hamid @ZaidZamanHamid took to Twitter to express his sentiments: "After first monsoon rain, this is what happened at Mall Road Lahore….where hundreds of billions have been spent by PMLN. Such is the staggering levels of corruption these…. have done. Yet, they roam free… Zardari is identical in Sindh. Hundreds of billions robbed by him."
Others mocked the promises the former government, Pakistan Muslim League – Nawaz (PMLN) and Shahbaz Sharif, in particular, made, like "turning Lahore into Paris".
Posting a picture of the flooded city, Aamir Khalil @AAMIRKHALIL16 tweeted:
The paris of shehbaz sharif becomes the venice of shehbaz sharif.
Weldone lahoris cast your vote in support of PMLN more than more?.
Lahore pic.twitter.com/Dk6tvFBC8y

— Aamir khalil (@AAMIRKHALIL16) July 3, 2018
Similarly, tweep Makhdoom Khusro Bakhtiar @MkhusroBakhtiar wrote: 
Development of PMLN in Lahore badly exposed :: Billions of rupees spent by @CMShehbaz on Advertisements/Billboards but none spent on a proper drainage system for Paris of Pakistan !
#TajurbaExposed pic.twitter.com/hDDPoHyDxf

— Makhdoom Khusro Bakhtiar (@MKhusroBakhtiar) July 3, 2018
Journalist Salman Masood @salmanmasood tweeted about the effects the rain-related incidents can have on Pakistan's upcoming general elections:
Rain causing craters and holes in Lahore's otherwise spanking new looking roads couldn't have come at a worse time for PML-N in terms of election perception. The potholes are both literal and figurative.

— Salman Masood (@salmanmasood) July 3, 2018
Following the destructive downpour, the Water and Sanitation Agency, Lahore (WASA) has declared a rain emergency in the city.
According to the Meteorological Department, more heavy rains are expected this month.
Every year, many cities and towns in Pakistan struggle to cope with the annual monsoon deluge, drawing criticism about poor planning.
Pakistan's monsoon season runs from July through September.
Rains also swell rivers during the monsoon season, causing floods that kill people and damage crops and infrastructure.